Tofu, used as an ingredient for a snack or an entrée, can be either store-bought or homemade. This dish is also known as bean curd, whether prepared fresh or purchased pre-processed. There are a variety of methods people use to make tofu at home. Prepared with soybeans, water, and coagulants — and occasionally seasonings — tofu is fairly quick and straightforward to make. During the process, once the soymilk begins to curdle, the curds are retained and pressed into separate molds.
Many people make tofu at home because it can be cheaper than buying meat or purchasing tofu. Bulk soy beans can be found at many large supermarkets, though they can almost always be found at ethnic, vegetarian, or specialty grocers. These will need to be pulverized, so make sure to have a processor or smasher on hand.
Calcium sulfate may be used as the coagulant when it's time to make tofu at home. It will likely be a white powder. This product is also marketed as gypsum. There may be various grades of calcium sulfate available, so make sure to purchase a type that is safe to ingest. Magnesium chloride, or nigari, may also be used.
Start by making soy milk, many recipes for which can be found online. The soy milk should be brought to a temperature of approximately 75 degrees C (167 degrees F). The coagulant is added to warm water to dissolve. This mixture is then added to the soy milk in order to begin to make tofu.
This mixture will begin to thicken and separate. Curds will be separated from a thinner, more liquid-like mixture. The curds are pressed into molds and strained. This is the tofu.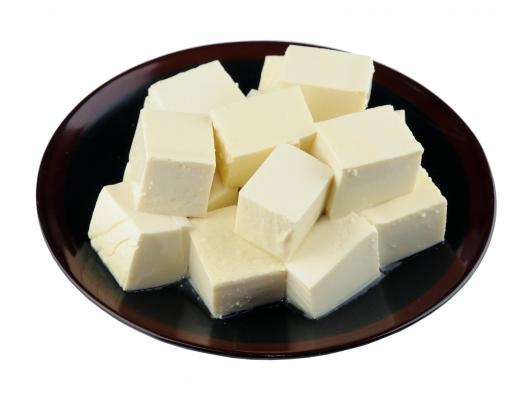 Tofu is a staple in many Asian cuisines. Historically from China, many of the region's inhabitants still make tofu at home. It has become more popular in America since the late 19th and early 20th centuries. Though many people in Asia make tofu at home, Americans are more likely to purchase it from the store or at a restaurant. Homemade tofu is becoming more popular, though, with the emerging trends of vegetarian and vegan dieting.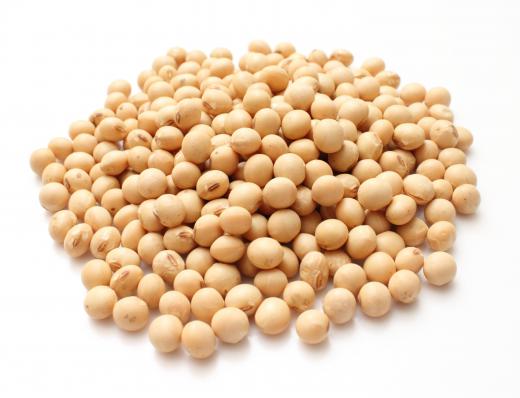 Tofu is a popular element of a vegetarian diet. It can be high in calcium depending on what kind of coagulant is used to make tofu. It is also low in fat and calories. There is also quite a bit of iron in most tofu, making it an excellent choice for those with iron deficiencies and conditions such as anemia.
AS FEATURED ON:
AS FEATURED ON:

By: nito

Use a food processor to pulverize soybeans.

By: Norman Chan

A plate of tofu.

By: terumin

Soybeans.

By: Win Nondakowit

Soymilk.

By: 3dsguru

Soy milk is used to make tofu.

By: stockstudios

Tofu is a good substitute for meat in many dishes because it is high in protein.