How Do I Make a Spritzer?
To make a simple spritzer, one can add plain seltzer water or club soda to cold wine, juice, or any other beverage of choice. Both alcoholic and virgin drinks can be prepared as spritzers. The chilled drink can be garnished with an appropriate piece of fruit, such as a strawberry, if desired.
When making a wine spritzer, one part club soda should generally be used with two parts wine. The wine should be poured first, followed by the club soda. Some people like to add a small amount of grenadine to finish the drink with a burst of brightness and flavor. If grenadine is used, the drink should usually be stirred. Adding ice to the beverage is also optional.
Fresh fruits, such as peaches or blackberries, can easily be smashed and incorporated into spritzer cocktails. Many different garnishments can also be added to the beverage for both visual appeal and flavor. Small berries and pomegranate seeds are popular garnishments for these simple cocktails. For an elegant touch, a swirl of lemon or orange peel may also be added.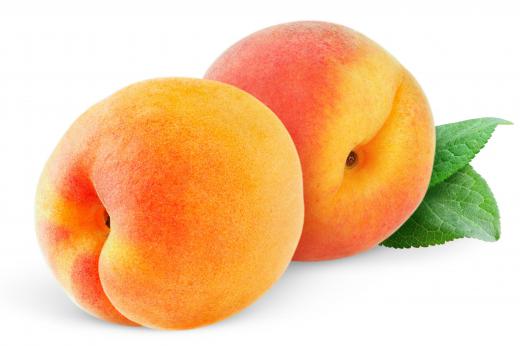 Some bartenders prefer to strain the fruit in order to make a fresh, smooth syrup, while others leave the fruit in as a tasty treat at the bottom of the glass. Mixing the fruit with the base drink, and then adding the complete mixture to the glass is another option. Depending upon the base drink used, fresh herbs, such as mint, may also be incorporated.
A wine glass is the traditional piece of glassware used to make a spritzer. Any clear glass, however, such as a martini or highball glass, may be used if wine glasses are unavailable. Spritzers are designed to be served immediately.
One of the most popular spritzer drinks is the white wine spritzer, which is also one of the most simple spritzers to complete. It can be made by adding two parts white wine to one part club soda. Kiddie cocktails that employ the same concept, with juice and soda, are also popular. A fun child's party punch can be made by mixing two parts fruit punch or juice with one part club soda or lemon lime soda and topping it with scoops of sherbert.
In Germany, carbonated lemonade is used instead of plain fizzy water. This adds a zesty, fresh flavor to the beverage. This drink typically employs a specific fermented apple beverage known as Apfelwein instead of other wines or beverages.


Orange peels are often used in spritzers.

By: Alejandro Muszytowsk

Chilled white wine, which can be used to make a spritzer.

By: Anna Kucherova

Pureed peaches can be a great addition to a spritzer.

By: Studiotouch

Soda water, which can be used to make a spritzer.

By: JJAVA

Martini glasses can be used to make a spritzer if no wine glasses are available.