How do I Make a Crochet Bag? (with picture)
A crochet bag is a lovely project for beginners and veterans alike. They can be as simple or complex as desired. Shapes and sizes can be easily determined as the project is crocheted, making it easy to customize a crochet bag for a particular use.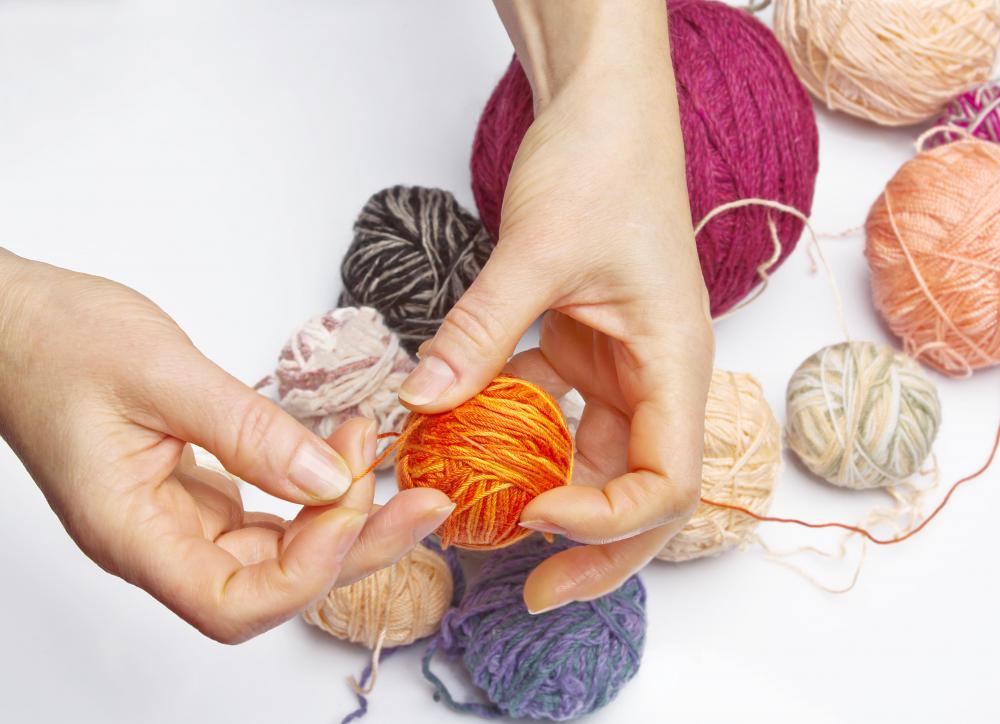 Crochet veterans can enjoy making complicated patterns without the time involved in a blanket. Simply choose a crochet square pattern that is appealing and make as many blocks as necessary to produce a bag of the desired size. Sew together the blocks into one side of the purse and then create its equal to the reverse side. One four inch (10.1 cm) block can make a small lipstick pouch, while four sewn together can make a nice 16 inch (40.6 cm) tote for books. Add a liner if desired, and sew on a handle for an easy bag.
For the beginner, a simple straight crochet bag can be gussied up by crocheting several colors at the same time, or switching out colors with each row. Yarn distributors like Lion Brand Yarn have many ideas for stitches and bags available for free on their websites. A quick web search for "easy crochet bag" will bring back many ideas from drawstring bags to beach totes.
To create a simple basic bag, crochet artists can follow these customizable instructions. An average bag will take about two standard sized balls of yarn. A crochet hook ranging from G6 to H8 will work well depending on how open of a stitch is wanted. The larger the hook, the more open the stitch. If trim is desired, a small amount of a different color of yarn will be needed as well.
This crochet bag can be as large or small as needed. First, the bottom needs to be created. This is done by chaining a row as wide as desired for the bottom of the bag. This sets how much the bag will be able to hold. For a standard handbag, about 5-8 stitches will do. After chaining the starting stitch, turn and single crochet into each of those stitches. Turn and repeat until the desired length of the bag is reached. A handbag will take about 20 or so rows. When the bottom is complete, it will look like a rectangle.
To begin the sides, do not turn after the last stitch. It is a good idea to place a marker on this corner to see where the rows will begin and where they should end. Begin single crocheting into the length of the rectangle and continue around the perimeter of the entire bottom. When the marker is reached, the new row can be joined or the stitches can simply continue in single stitch spiral until the bag reaches the desired height.
When it is complete, an edging trim can be added to the top row. This trim can be a similar color, contrasting color, or a fancy yarn like frayed edging. Simply crochet a single stitch of the new color around the top edge, or use a fancy edging pattern like a popcorn edge or picot pattern.
The finishing touches on the bag depend on how fancy the crochet artists wishes to be. For the easiest way to make a handle, a store purchased handle can be sewn on to the inside edges of the bag. If desired, a fabric liner of a coordinating fabric can be sewn in. Little accessories like buttons or iron-on patches can also be added for extra style and personalization of the newly crocheted bag.
About two balls of yarn are needed to crochet a bag.