How Do I Go into Blood Bank Management?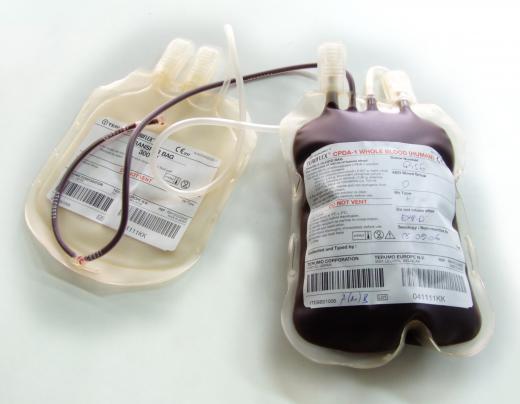 Blood banks collect blood and plasma that is administered to those needing transfusions due to illness or injury. Many people receive additional blood that is matched to their blood-type and screened for safety during surgery or after an accident. Blood banks can operate as a non-profit organization that collects blood from volunteers, or they can be a for-profit company that pays people to donate blood in order to sell it to hospitals that need it. Generally, to work in blood bank management, you need to first receive regional certification allowing you to work in the field. Once you are certified and have gained experience in the area, many blood banks require you to have experience in some type of supervisory position before you are eligible for blood bank management.
Blood bank management involves supervising blood bank employees and coordinating the operations of the office itself. At a blood bank, people arrive to donate blood and sit in a waiting room waiting for their turn. Blood banks usually have rooms with couches and medical equipment where blood is gathered and donors are allowed to relax during the process. Once collected, the blood is stored securely until it is picked up by a transportation truck that takes it to a hospital or clinic where it will be further stored or used. Blood bank managers can be responsible for overseeing this entire process, including coordinating pick-up and delivery in some cases.
In addition to being in charge of blood bank management, you could also be responsible for hiring and training employees. Most regions require individuals who work at a blood bank to be certified as a medical technologist or lab technician. Other types of certification allowed could include nursing and phlebotomy. Blood bank management is generally responsible for ensuring all employees have the needed certification, and that safety and hygiene is considered at all times.
To work in blood bank management, you generally need to first receive one of the types of certification needed to work there in general. You can typically obtain certification at local community colleges. Many jobs require you to first gain years of experience working as a medical technologist specifically at a blood bank. Some blood banks are large-scale branches of a national company, while others are local clinics. One way to enter blood bank management is to first work as a entry-level lab technician at work your way up to a supervisory position.


By: .shock

One empty and one full pint-sized blood bag.

By: luchschen_shutter

All donated blood must be sampled and tested for blood type, viruses, diseases, or other abnormalities.

By: wellphoto

Blood bank managers must have regional certification.