How do I get Rid of Belly Flab?
If you have excess belly flab that you would like to reduce, there are several measures to consider. The basic solution could be to tone your abdominal muscles through an exercise routine that targets the area. Eating a healthier diet could help as well. Flushing away toxins that accumulate in your stomach can reduce the bloated appearance of belly flab. There are natural remedies that can help you with the process.
In order to reduce belly flab, you might want to consider the concept of burning fat and how it could affect your situation positively. If you're burning fat through a rigid cardiovascular program, you'll not only reap the benefits of a heart-healthy regimen, but you'll have a better chance of reducing your waistline as well. This type of exercise routine might include cross-training through the use of fitness equipment such as elliptical training machines and treadmills or any type of aerobics.
Calorie consumption could play a vital role in the amount of flab or fat that becomes accumulated in the tummy. Simply reducing your daily intake of calories could help to melt away the belly flab. You should also consider caloric intake not only in terms of fatty foods and snacks such as chips and cookies, but in alcoholic beverages as well.
Losing belly flab is often hard to do even if you're consuming a healthy diet. Many people find that doing sit-ups or crunches are effective ways to address the problem. There are special machines or devices that are designed to help the individual do these exercises more effectively and safely, thus reducing the chance of potential injury.
There are other methods which are designed for toning and tightening abdominal muscles, aiding in reducing the appearance of belly flab. A device known as an abdominal belt is worn around the waist contributing to a 'workout' for the abs. Although results may vary and there is no conclusive evidence regarding the effectiveness of these products, they are readily available for purchase and have been endorsed by some fitness experts as well.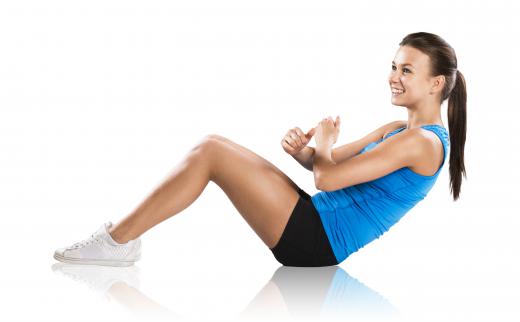 If all else fails, there are are those individuals who choose the option of having a surgery performed called abdominoplasty, otherwise known as a 'tummy tuck.' In this procedure, excess layers of fatty tissue are removed from the abdomen. As with any type of surgery, there are associated risk factors involved. Such risks might include permanent scarring or post-operative infection.
AS FEATURED ON:
AS FEATURED ON:

By: Sandor Kacso

Small amount of belly flab.

By: Paylessimages

A woman with a toned belly.

By: Halfpoint

Sit-ups can build muscle, but do not have much affect on fat content.

By: Lsantilli

Eating healthier and flushing away toxins that accumulate in your stomach can reduce the appearance of belly flab.