How do I get Bookkeeper Certification?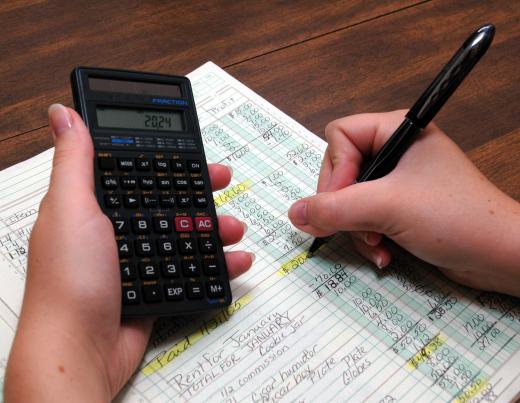 There are three steps required to get bookkeeper certification: post-secondary education, bookkeeping experience, and the successful completion of the certification examination. A bookkeeper is responsible for the daily financial management of a small to medium sized company. In addition to financial document data entry, bookkeepers also process payroll, run reports, and reconcile accounts.
People who want to get bookkeeper certification have usually been working as a bookkeeper for several years and enjoy bookkeeping or accounting. The bookkeeping certification is granted by the American Institute of Professional Bookkeepers (AIPB). Successful graduates can provide this certification to potential employers.
The first step toward getting a bookkeeper certification is to complete a post-secondary education program. Many people complete a one- or two-year bookkeeping program at a community or career college. This training covers accounting principles, financial reporting requirements, important business law and related issues. Most schools offer both full- and part-time programs available. This flexibility allows students to work and learn.
A minimum of three years' bookkeeping experience is required before you are eligible to write the bookkeeper certification examination. This must be verifiable bookkeeping experience, where you are solely responsible for a company's financial processes. This type of experience is usually earned over a period of two to three calendar years.
The bookkeeping certification examination is two to three hours in length and is a combination of multiple choice and calculation problems. Many associations offer preparation courses and seminars to help students prepare for this exam. Accuracy, comprehension and speed are all important when preparing for this examination.
Upon successful completion of the bookkeeping certification program, candidates can look for employment opportunities as bookkeepers in a company, set up their own bookkeeping business, or work for an accounting services firm as a bookkeeper. It is highly recommended that anyone who is planning to set up her own bookkeeping company obtain the certificate first. Professional credentials provide assurances to all potential clients that you have a specific level of skill and training as a bookkeeper.
People who enjoy working with numbers, are detail-oriented, and like to work independently report the greatest level of satisfaction as bookkeepers. This type of work is often a stepping stone to further accounting training programs. There is a specific limit to the services that a bookkeeper can offer, based on government regulations. Bookkeepers are not able to create financial statements, complete tax returns, or provide financial advice, for example.


By: Danny Hooks

A bookkeeper must be able to accurately review ledgers.

By: Photographee.eu

A person must complete post-secondary education and pass the certification examination in order to achieve bookkeeper certification.