How do I get a Pharmacy Technician Certificate? (with pictures)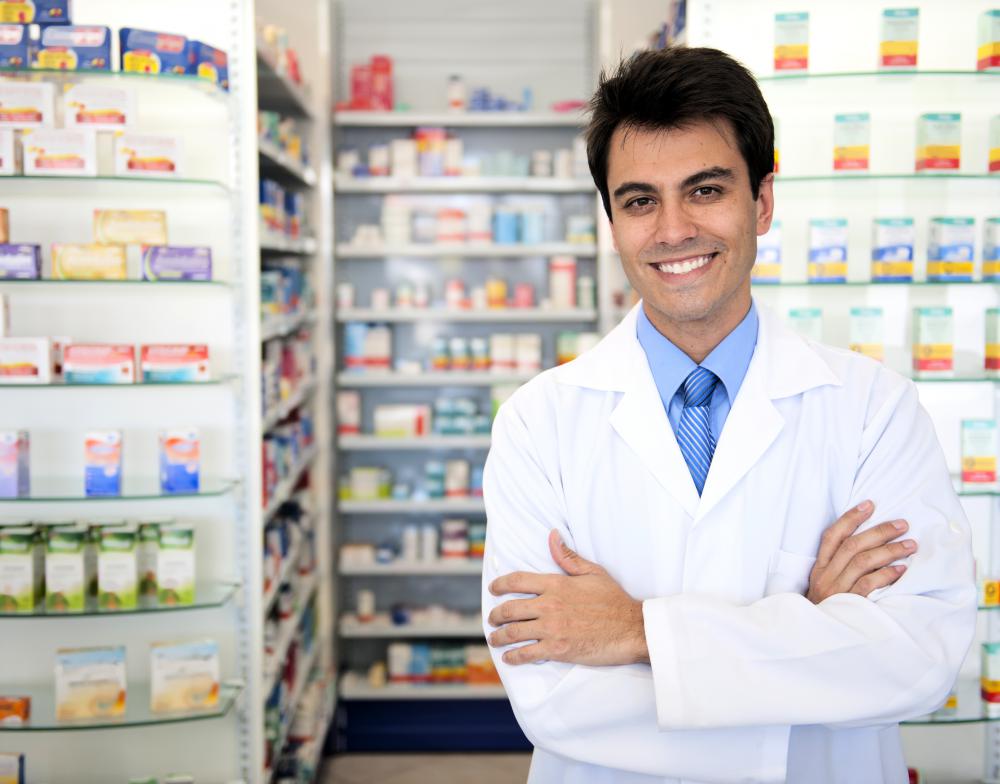 Becoming a pharmacy technician can be an excellent career move for someone with an interest in a steady job with good benefits, and a good head for the kind of organizational preparedness and basic medical knowledge it takes. Although you don't need a pharmacy technician certificate simply to work in a pharmacy, it will help get a much more steady job in the field. Luckily, getting a pharmacy technician certificate is not terribly difficult, and is an excellent investment for a mid- to long-term career.
A pharmacy technician is not the same as a pharmacist, but rather serves a role as a close assistant to the actual degreed pharmacist. Their responsibilities are partially administrative, answering phones, working the register, and stocking, and partially assistive, helping count out dosages, labeling canisters, and helping prepare prescriptions. They never deal directly with pharmaceutical matters, however, with the pharmacist dealing with patients regarding questions they might have about their prescriptions, or their overall health.
Opportunities for the pharmacy technician may also go beyond simply a job at a pharmacy, to live-in facilities like nursing homes or assisted-living centers, or in a hospital. In this capacity, the technician may not only help prepare dosages, but may also be required to read patient charts, and may be asked to administer dosages, after the amount has been checked by a supervising pharmacist. In some areas, a pharmacy technician may have a pharmacy aide working with them, who handles the more administrative tasks like answering phones or taking payments, in other areas the pharmacy technician may be required to fill both roles.
It does not actually take a pharmacy technician certificate to become a technician in many states, and in fact many technicians get their training on the job as a pharmacy aide. A certificate can, however, help a potential employer see immediately that the applicant has an understanding of the roles required of them, and a good understanding on the medical terminology they will need to know in their job. As the job market becomes more competitive, a pharmacy technician certificate is increasingly an edge in the application process.
There are two different bodies that one can get a pharmacy technician certificate from: the Institute for the Certification of Pharmacy Technicians, and the Pharmacy Technician Certification Board. To take the exam, the candidate needs to have no felony convictions within the past five years, have no drug-related felony convictions on record, and a high-school diploma or equivalent. Programs exist to help potential applicants study for either exam, and many people take the exam after having worked as a pharmacy aide for some years. Some pharmacies will also hire an applicant on a temporary basis, with the understanding that they will receive a pharmacy technician certificate within a certain time frame.
The certificate itself has to be renewed every two years, through whichever board originally granted it. Recertification requires twenty hours of continuing education within the two year period, with at least one hour devoted to the study of pharmacy law. Half of the total commitment can be received in on-the-job training, certified by a pharmacist. The other half can be received through a training program, a pharmacy association, or a college program.
Certified pharmacy technicians must pass an exam that is administered by a recognized certifying agency.

For safety reasons, pharmacy technicians must understand medical labeling and coding procedures.

A pharmacy technician is not a pharmacist, but serves as an assistant to the pharmacist.

Pharmacist technicians may be tasked with stocking shelves.