How do I get a Nail Technician License?
If you wish to give manicures and pedicures professionally, you will likely need to obtain a nail technician license. The requirements for obtaining one in the US vary by state. In most cases, however, you will be required to complete a nail technician training course and pass a qualifying examination before your license is granted. Once you have qualified as a nail technician, you will likely be required to renew your license periodically. Depending on your state's laws, you may need to complete continuing education hours to be eligible for license renewal.
In most cases, you will begin the process of obtaining a nail technician license by completing a training course to prepare you for the various facets of working as a nail technician. During your course, you may study subjects such as trends in nail art, diseases of the nail, salon management, and communication skills. You will likely also participate in lab-style classes in which you will practice manicure and pedicure techniques. These courses, often offered by cosmetology schools or community colleges, can range in length from several weeks to several months. Before starting a course, verify that it meets the minimum length required by your state's licensing laws.
After successfully completing your training course, you can in most states then apply to take the nail technician license examination. Before allowing you to take this test, most state licensing boards will first confirm that you passed your training course. They will also make sure that the course itself meets state requirements for length and content.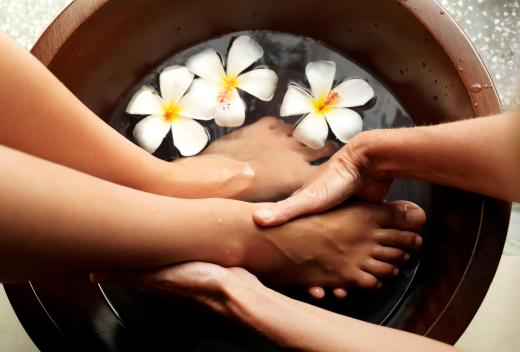 Once your application has been approved, you will be authorized to complete the nail technician license examination. This examination generally takes the form of a written test. If you score at or above a minimum level on this test, you will qualify for a license. Depending on your state, the license itself may be issued automatically following successful completion of the exam, or you may be required to file a license application.
You will most likely be required to renew your nail technician license periodically. The length of time that a license remains valid varies from state to state, although it is common to require license renewal every two or three years. Some states may grant renewal only after receiving proof that the applicant has completed a prescribed number of continuing education hours in subjects relevant to the work of a nail technician.
AS FEATURED ON:
AS FEATURED ON:

Artificial fingernails applied by a nail technician.

By: Yuri Arcurs

A woman getting a pedicure.

By: Andrea Arnold

Pedicure techniques such as foot and leg massage are often included in nail technician license classes.

By: sakura

Before becoming licensed, a nail technician must study courses about nail art and nail designs.

By: Photographee.eu

A licensed nail technician should be familiar with various techniques for cleaning the fingernails.