How do I File a Whiplash Claim?
A whiplash claim can be made if you have sustained a whiplash injury from a motor vehicle accident or other incident, regardless of fault. A whiplash claim can be filed against the at-fault party's insurance company or even your own auto policy if you were at fault. Of course, if you were at fault, you will be compensated if your policy includes coverage non-fault medical payments, sometimes called personal injury protection (PIP). You will need the care your doctor believes is necessary to stabilize your condition, first. Keep a log of all doctor's visits, out of pocket expenses, and your daily feelings to submit to the insurance company.
To file a whiplash claim, follow the filing instructions on the back of your insurance card for reporting an auto accident. When you speak with the call center representative taking the accident information, let him or her know that you have been injured. If your auto accident claim has already been filed, contact your insurance adjuster to advise him of your injury. The sooner you let the insurance company know about your injury, the better. Give all details regarding your injury at first contact, if possible.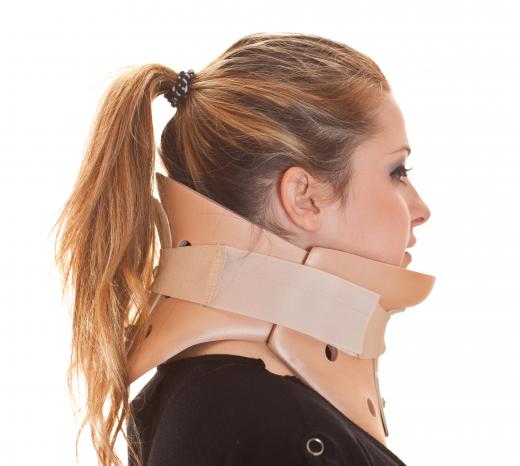 If you are filing a claim for whiplash against an at-fault party's insurance, you may be advised that you need to make an injury claim with your insurance company as well. This is normal. A whiplash claim can be a lengthy process, and you will not receive a settlement until you have completed treatment, meaning none of your bills will be paid immediately. You should still seek and receive the appropriate medical care. Do not delay care because of this. If you have appropriate coverage, your insurance company can handle paying your related medical bills as they are incurred and then seek reimbursement from the at fault insurance company.
Insurance adjusters will follow up with you throughout your whiplash claim. Give them updates during the claim process to keep them abreast of your condition and treatment. Keep a written log to turn in at the end of your claim. Keeping this log will help ensure none of your visits or inconveniences are missed when you prepare for settlement. As you complete treatment let the adjuster know, and send in a copy of the log along with any copies of receipts for out of pocket expenses.
As you go through the settlement process, you may need to negotiate with the adjuster. Do not sign anything other than a medical authorization until you are comfortable with the settlement amount. The medical authorization will need to be signed, though, so the insurance company can collect your medical records to back up your claim. Once you have come to an agreement on your settlement, read over any documents carefully, sign, and return them to receive your compensation.
If your insurance adjuster is not cooperating or you feel you are being treated unfairly during your whiplash claim, first try to contact the adjuster's supervisor to settle the matter. If you are still unable to make progress, you make want to speak to a personal injury attorney. A personal injury attorney will deal with the insurance company for you, and should be able to reach a favorable settlement with the company. A whiplash attorney will take a portion of your settlement, though.
AS FEATURED ON:
AS FEATURED ON:

By: ESLINE

A woman wearing a neck brace for whiplash.

By: spanky1

Auto accidents can cause whiplash.

By: Monkey Business

The sooner the insurance company is notified of an injury, the better the chances of receiving damages for the injury.

By: Kamil Ćwiklewski

Whiplash is an injury that occurs when there's a sudden whipping back of the head that causes damage to ligament, tissues, muscles, and nerves.