How Do I Create an Eat-In Kitchen?
Creating an eat-in kitchen requires enough space to place a small table and chairs, or a bistro or pub set. If you have counter space, you can use a few bar stools to create your eat-in kitchen. This idea generally works best for casual breakfast dining and snacking. Your formal dining table should be placed in a separate dining room or area. If you want to invest the money, you can also create a custom made eat-in kitchen.
For your custom made eat-in kitchen, consider having a breakfast nook installed. If you have a spacious kitchen, you can also install a custom-fitted, free-standing bar or portable island, which will include counter space for dining. To save some space, choose dining chairs that can easily be pushed in underneath the counter.
Whether you choose a dining nook or island bar, you'll need to take measurements. Measure the area in your kitchen with which you have to work. For a do-it-yourself eat-in kitchen project, you'll need to have the proper amount of lumber, as well as the necessary tools and paint.
Consider how many people will use the eat-in kitchen on a regular basis. For just two or three, you generally won't need anything too spacious or elaborate. A simple pub set or bistro set might suffice. Conversely, if your kitchen has plenty of space to spare and you entertain frequently, you might want a more elaborate kitchen banquette. You can use an upholstered bench that resembles a diner booth with a banquette or buffet-style table.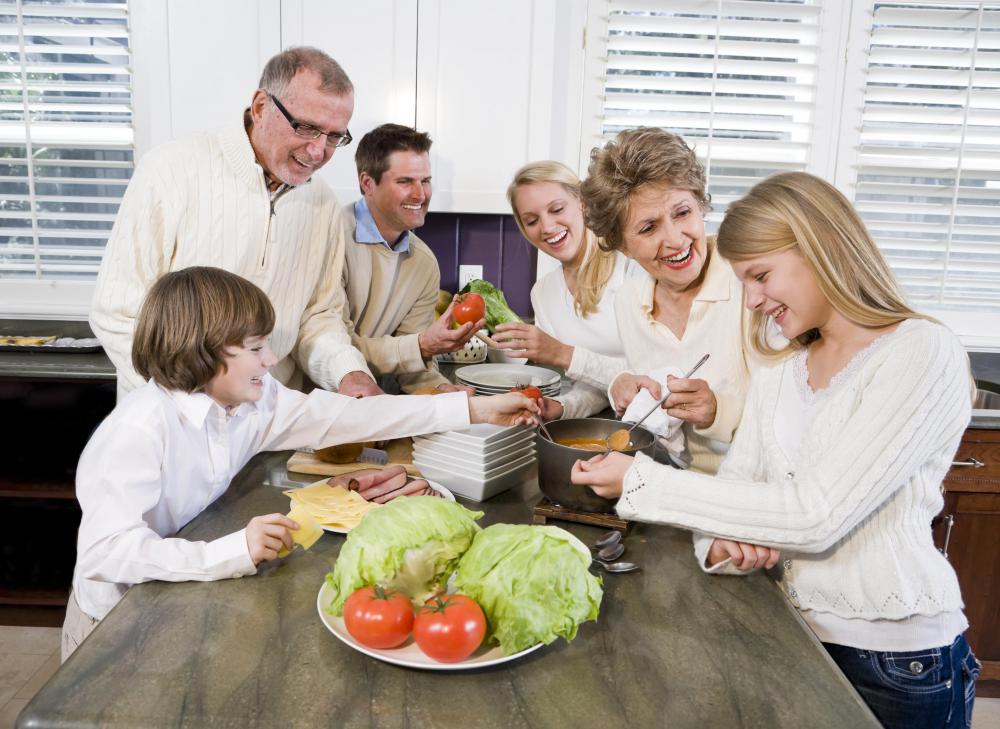 Setting up a banquette table in your kitchen would work well for parties and entertaining. This table in your eat-in kitchen will allow your dinner guests to serve themselves, buffet style. Choose table shape that conforms to the corner of your kitchen.
If you do a lot of baking, you might want marble or granite counter tops for your portable island. Keep in mind that marble will cost more than laminate counter tops, but offer you more versatility. If you want to save money, use a marble coating or veneer, rather than installing a full marble counter.
When designing your eat-in kitchen, you might consider installing an over-the-range microwave. A microwave set above the stove is generally preferred when creating fitted kitchens, as it saves counter space. Select the proper size microwave that will work well with your existing stove top range.
An eat-in kitchen can accommodate a kitchen table and chairs.

An eat-in kitchen may feature a breakfast nook.

A microwave above the stove is preferred for fitted kitchens, as it saves counter space.

Some kitchen islands may offer enough space for both food preparation and eating.

A breakfast nook typically offers only enough space for a small plate and drinks, not an entire family meal.