How do I Create a Prenuptial Agreement?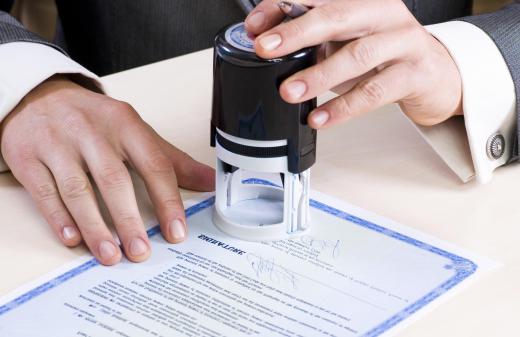 Many couples find it advantageous to draft a prenuptial agreement prior to a marriage or other form of civil union in order to protect assets. This contract generally addresses issues of asset distribution when a union concludes by legal separation or death. The creation of a prenuptial document considers many issues, namely asset distribution details, full disclosure, regional standards, and provisions and exceptions.
A prenuptial agreement — often referred to as a "prenup" — is a contract entered into by individuals wishing to marry or otherwise officially commit to each other. The agreement typically centers around division of assets and spousal support in the event that the marriage or union ends. Individuals may also create a prenup in order to waive the right to alimony, inheritance, or other means of financial support. In some regions of the world, a prenuptial agreement also addresses the use of mutual assets during the marriage or union.
Prenuptial agreements standards differ globally, with some regions not recognizing the document's validity and others using specially appointed councils called matrimonial regimes to settle prenuptial matters. Even when a prenuptial agreement is drafted and notarized, it may be recognized but not enforced. Enforcement occurs at the discretion of a judge or other legal official.
In the United States, a valid prenuptial agreement must generally meet some basic guidelines. For one, all involved parties must be aware of the agreement and enter into it without coercion. Individuals should compile a list of assets and debts and fully discuss career goals, property attainment, and expectations about asset division so that all details are explained and understood. A written outline of these discussions will constitute the bulk of the agreement, and the affected individuals must be present during the creation and execution of the agreement. The agreement is not considered valid unless it is in written form and signed by all involved individuals before a notary public or other legal official.
In order to ensure the fair and just participation of all parties, prenuptial agreements cannot generally be signed until roughly a week after they have first been presented. This guideline gives all individuals an opportunity to review the document. Experts also recommend negotiating a prenup months prior to an official union in order to properly understand and address all pertinent issues. Advice of legal counsel, such as a mediator or prenup lawyer, is recommended, although not always required. A lawyer can draft the agreement for a fee.
Location also plays an important role in creating a prenuptial agreement. In the United States, for example, a choice of law provision allows individuals to either enforce their agreement by laws of the state in which they are married or the laws of the state in which their union officially ends. Some regions divide assets by community property laws, which typically constitutes an equal split between the separating parties whereby each individual receives half of the assets. Other regions govern by an equitable distribution standard that divides assets according to each individual's financial situation at the time of separation.
Certain issues cannot be addressed in a prenuptial agreement, primarily custody of any current or future children. A child's best interests almost always trump any parental agreements in the eyes of a court. Spousal behavior or religious requirements are generally banned from a prenuptial contract as well. An enforceable agreement cannot leave one party in dire financial straits. Unforeseen financial circumstances such as the accumulation of unexpected wealth during the marriage may also impact a prenuptial agreement's enforcement.
Prenuptial agreements may be voided or challenged for several reasons. One party may allege a lack of awareness about the details of the agreement. Allegations that one party was not truthful about the value of his or her assets may also occur. In some cases, a sunset provision added to the agreement can invalidate the whole prenup after a particular time period has passed or a major event has occurred, such as a child's birth.


By: Iurii Sokolov

Prenuptial agreements should be notarized.

By: 2xSamara.com

There is generally a waiting period between the drafting and signing of a prenuptial agreement.

By: tankist276

Prenuptial agreements specify how a couple's assets, like vehicles, homes, or savings accounts, are to be divided after a divorce.

By: Darren Baker

Some couples enter into both prenuptial and postnuptial agreements.

By: Aleksandar Radovanov

A lawyer may be hired to draft a prenuptial agreement, although that's not always necessary.

By: Digital_Zombie

Prenuptial agreements might focus on the division of financial assets following a divorce.