How do I Correct Hair Color Mistakes?
Correcting hair color mistakes requires taking action within 48 to 72 hours of applying the incorrect hair color. Options to fix the mistake range from lightening the color with aggressive washing to re-coloring the hair to a more acceptable shade. If the coloring was done by a professional, you should go to that person for help first.
Generally, a hair color will not be sealed into the cuticle of the hair for about 48 to 72 hours after the coloring process. It's important to decide quickly if the color is unacceptable and if you want to take any action to fix the mistake. If you determine that the color needs to be changed, immediately contact the beautician who did the coloring for advice. For do-it-yourself hair coloring, the manufacturer of the hair color product often will have a toll-free number to call.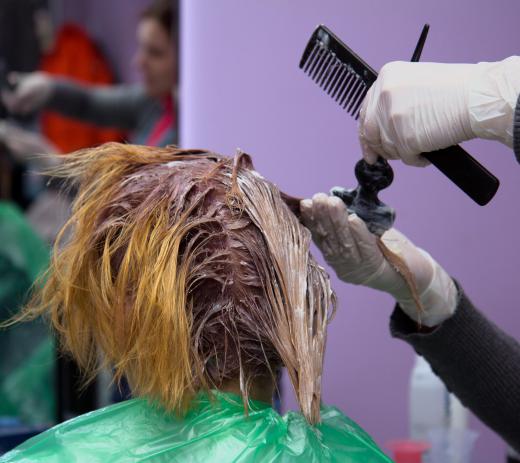 The first steps in fixing hair color mistakes typically involve aggressively washing the hair to get rid of as much dye as possible. Use a clarifying shampoo or a detergent-based shampoo. If these are not available, dish detergent, which also is an abrasive soap, can be used. In all cases, leave the soap in for about 10 minutes and rinse with warm water.
If lightening the hair by washing out the dye is not what you want, consider making your hair a darker shade. This usually means using a semi-, demi- or vegetable product. Experts advise individuals not to try to fix hair color mistakes with permanent hair colors or bleaches. You might also want to consider highlighting your hair if a minor adjustment can make the color acceptable.
The longer-term fix, of course, is either cutting your hair to minimize the color or waiting and letting your hair out. This will remove the color naturally. Dye will sometimes fade over time, and you can also have the colored hair cut off as soon as your naturally-colored hair has grown to an acceptable length.
The 48- to 72-hour time frame usually allows enough time to consider the best alternative for fixing any mistakes. Experts often suggest that people be patient and not try to change the color immediately, which might create a worse problem. In many instances, individuals find an initially unacceptable hair color isn't so bad after they've lived with it for a day or so.
AS FEATURED ON:
AS FEATURED ON:

By: eillen1981

Hair color mistakes may be corrected by professional hair experts.

By: Valua Vitaly

Dyeing hair back to its normal color may also reduce the appearance of a bad dye job.

By: Wrangler

Hair color mistakes can be lightened in order to minimize their impact.

By: Piotr Marcinski

The first step of correcting color mistakes is washing the hair with clarifying shampoo.

By: bedya

A root touch-up brush, which looks similar to a mascara wand, can be used to apply hair dye to specific areas and correct mistakes.

By: ingaivanova

Hair color typically will not be sealed into the cuticle of hair for about 48 to 72 hours after the coloring process.