How Do I Choose the Best Wholesale Frames? (with picture)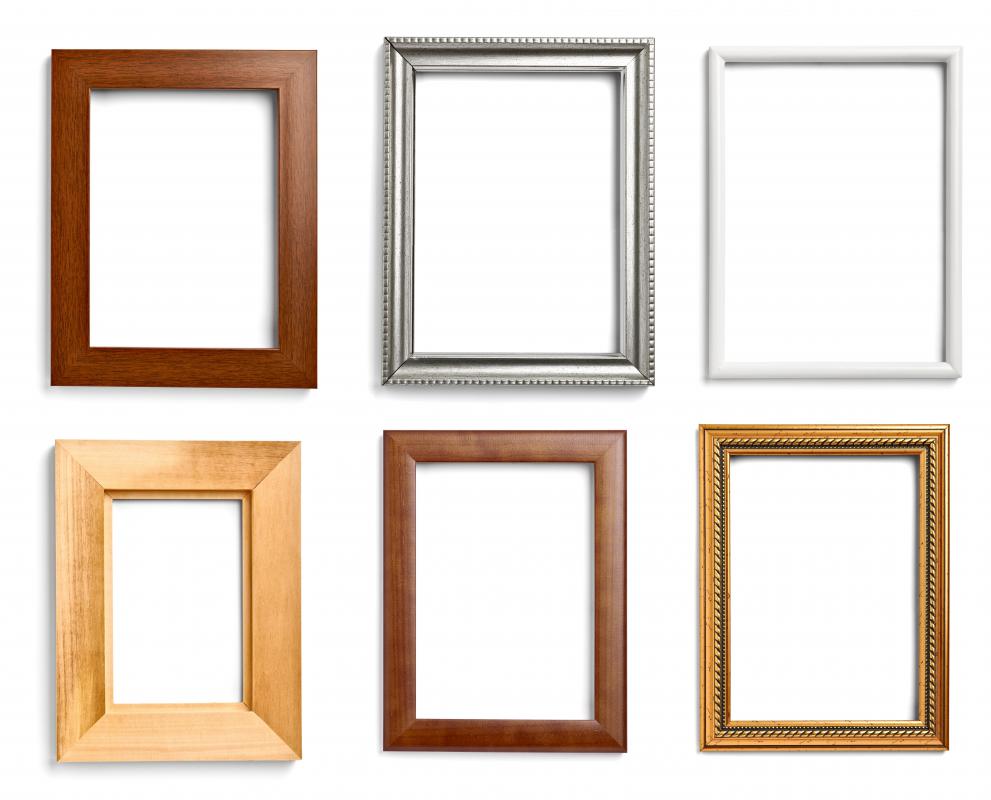 To choose the best wholesale frames, consumers should avoid online purchasing, inspect all items before completing the sale, and find out what, if any, hardware is required to hang the frames. Buying this type of item through Internet distribution sites often leads to high shipping costs and damaged product. Shopping for frames in person allows the consumer to diagnose any problems the items may have which lead to their reduced price, and determine whether he is capable of making any needed repairs himself. He can also learn from the seller what type of hardware is included and what pieces may need to be supplemented from a home improvement store.
Consumers should typically only purchase wholesale frames in person. Art frames can be heavy, depending on the size of the frame and interior glass, and whether the hanging hardware that is included. Items ordered from Internet wholesalers are often shipped over great distances. The weight of the items mailed can greatly impact the cost of shipping, and may cause a consumer to pay as much for a shipped wholesale art frame as he would have paid full price when purchasing it in person. Mailing this type of cargo also increases the likelihood that items will arrive damaged, chipped, or with cracked glass.
The frames being considered for purchase should next be thoroughly inspected. These items may be reduced to wholesale for a number of reasons, including featuring discontinued styles, a dealer who no longer wishes to remain in the market, or due to slight damage. The best type of wholesale frames are those that are simply being reduced so that a new season's selections can take their places on a retailer's walls. When shopping this type of sale, shoppers can often find large, fully intact, shrink wrapped frames made with intricate wood detailing that include the center glass for a discount of 50% or more. Frames that have been reduced due to wear can include those that have slight chips in the frame or ones which do not include glass inlays, and consumers should ensure that the items they are purchasing are not damaged beyond their abilities to repair them personally.
Once a shopper has located the frames they are interested in purchasing, and examined any possible damage, he should finally locate any and all associated hanging hardware. Many large wholesale frames include hanging brackets in attached packaging. These brackets allow the purchaser to hang the frame in any direction, whether portrait or landscape where applicable, and include additional support if needed. Discount sellers typically do not guarantee items that have been reduced in price for quick sale, and will not replace missing hardware. In this type of situation, shoppers can ask to view similar frames with hardware intact so they will know what to purchase at a local home improvement store.
Wholesale frames should be purchased in person.