How do I Choose the Best Weight Training Accessories?
Weight training is a good strength-building program designed to promote power and size. Many athletes use weight training programs to gain endurance and strength for multiple types of sports activities. Some of the best weight training accessories include weight training gloves, lifting belts, barbells, and dumbbells. These accessories help the weightlifter perform the exercises needed in a weight training program.
Today there are hundreds of weight training accessories available. These products are used by gyms across the world the assist weightlifters with quality machines accessories and safety equipment. Most gym equipment requires the use of secondary products to create a safer weightlifting experience.
A barbell is a metal bar that supports free weights. It is approximately seven feet long (2.13 meters) and weighs about 44 pounds (19.95kg). Weighted plates are typically attached to the ends of a barbell and are used for performing multiple exercise, including bench presses, military presses, and squats. A barbell is a weightlifting accessory that typically includes weight clamps that securely fasten the plates to the barbell.
Gym floor mats are an important safety feature within a workout facility. These weight training accessories help reduce slippage and help the bodybuilder with proper stances while performing his exercises. Most mats are made from a soft composite material, which makes them comfortable for athletes and easily cleaned with disinfectants.
The professional bodybuilder knows the importance of weight training gloves. Gloves are weight training accessories that provide additional grip and support for the hands. This helps the bodybuilder lift heavier weights by reducing the external stress on the wrists. Gloves also help the weightlifter grip the bar harder without causing unsightly calluses.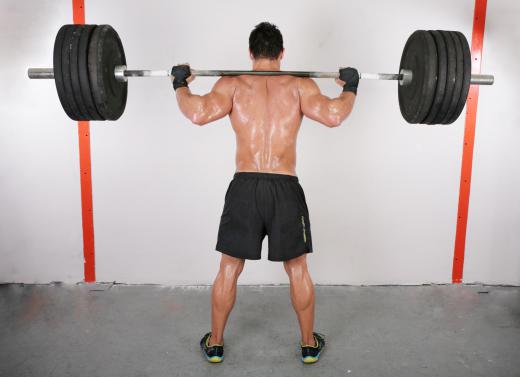 Weightlifting belts are another example of a weight training accessories designed for safety. These belts are typically used for overhead exercises or bending exercises. The weightlifting belt helps support the lower back and prevent it from hyper-extending during an overhead lifting program. As a bodybuilder lifts heavier weights, it is important to add this accessory to prevent harmful back injuries.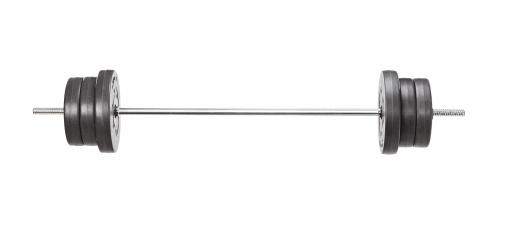 Cable attachment bars are a set of lifting bars that are used for weightlifting cable machines. These weightlifting accessories come in many forms, with each configuration designed to enhance specific muscle groups. These bars can be used for back rowing, curls, triceps, and shoulder exercises. Most gyms have a special cable bar attachment rack that is used to store multiple cable bar types.
AS FEATURED ON:
AS FEATURED ON:

By: Tijana

Hand weights can be used for a multitude of exercises to build strength and tone the body.

By: sumnersgraphicsinc

A barbell is a metal bar that supports free weights.

By: dacasdo

A barbell is a weightlifting accessory that usually includes weight clamps.

By: Ljupco Smokovski

Standard barbell equipment includes a straight bar and weight plates.