How do I Choose the Best Waste Management Training?
Waste management training can be an option for novices looking to enter the field, or for experienced professionals in waste management who are looking to improve their skills and familiarize themselves with the most modern waste management information and strategies. An employer who wants its staff to become familiar with waste management procedures might also implement training. When trying to choose the best waste management training, there are many factors you may wish to consider, such as the quality of the training, accreditation, curriculum, cost, and if the program corresponds with your precise goals within the waste management field.
In general, waste management refers to issues related to the collection, processing, transportation, and disposal of waste materials. These materials can include anything from everyday household garbage to hazardous waste materials, such as radioactive waste or poison. According to the wide range of different types of waste, each material needs to be managed in a manner that is relevant to it. Studying waste management can help you become familiar with these strategies.
Many different organizations or schools may offer waste management training. This can include academic institutions, private waste management firms, or waste management organizations whose members generally are waste management professionals. It can be important to examine the accreditation of these institutions. Proper accreditation typically means that the waste management training will satisfy the various legal requirements that usually must be met in order to train waste management technicians. Training programs that are highly respected by professionals in the field also can be something to consider, as this usually will indicate the general quality of the education that is offered.
As there are many different types of waste, it can be a good idea to select an introductory course to waste management training if you are a novice. This can help you become familiar with the field, while also potentially assisting you in choosing a specialized area of waste management. A training program that offers a broad curriculum also can help in expanding your waste management horizons. Waste management is generally thought of as an ever-changing field; new approaches to dealing with waste are in constant development. An emphasis on contemporary techniques can help provide you with a cutting-edge education.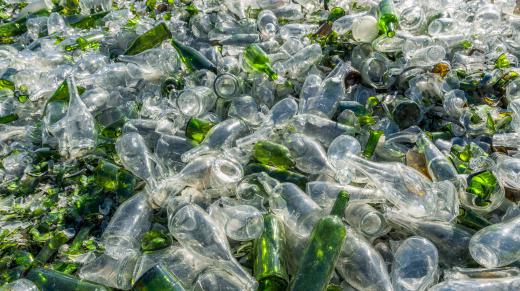 Some waste management training courses may offer courses tailored specifically to what you want to study. This can be a good option for those businesses that want to send their employees to waste management training. Examining the duration and price of this training could help you decide if it is right for you.
AS FEATURED ON:
AS FEATURED ON:

Working with radioactive waste requires special technical training.

By: Goss Vitalij

Trash collection is a part of waste management.

By: Moultipix

Recycling turns waste into reusable materials.

By: Keith Frith

Learning to handle biohazardous materials such as medical waste may require additional training.