How do I Choose the Best Vitamin B Supplement?
You can choose the best vitamin B supplement by trying various options and noting which ones have the more noticeable effect on your body. While overdosing on most B vitamins is nearly impossible, it's always a good idea to check with your doctor or pharmacist before using a new supplement. This is especially true if you are currently taking other medications or supplements at the same time.
The symptoms of a B vitamin deficiency may include depression, fatigue, and in some severe cases, a compromised immune system and metabolism. Since these things can also be caused by more serious conditions, you should consult your doctor if you have experienced any of these things for more than two weeks at a time. This will allow you to rule out any other conditions, while being tested for a B vitamin deficiency.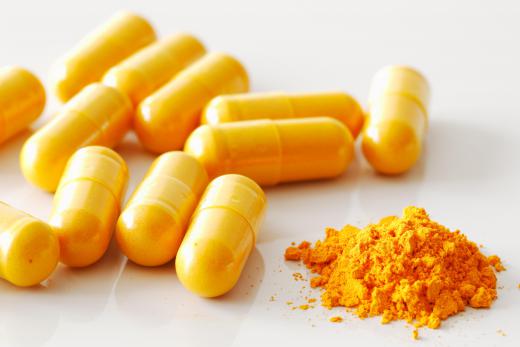 Once you have established that you may be lacking sufficient B vitamins in your diet, you can then choose the best vitamin B supplement. Most B vitamins come in combination formulas called a B vitamin complex. These formulas generally contain riboflavin, niacin, B-6, and B-12. Most times, these vitamins are better absorbed together rather than taking them all separately, and they all work together to provide you the best results. If you are especially deficient in one particular B vitamin, however, taking an individualized supplement may be a good idea.
In many cases, choosing the best vitamin B supplement will require that you find the one that is easiest to take and the most cost effective. Although there are many pricey vitamins on the market, if you can't afford to purchase them regularly, they will not be of much use. Choose a variety that is within your budget. You may also consider taking a vitamin in liquid form rather than pill form because they are better absorbed by the body and easier to swallow.
For very severe vitamin deficiencies, you may choose the best vitamin B supplement by asking your doctor to prescribe you with a prescription vitamin. This will allow him or her to better keep track of how much you are taking and how effective each dosage is at alleviating symptoms. Your doctor may also recommend a particular type or brand of over the counter vitamin, although you should discuss any price issues ahead of time. A prescription option may also be best for those who need their insurance to cover the cost.
AS FEATURED ON:
AS FEATURED ON:

By: Sophie James

B complex supplements can provide many health benefits.

By: lukasvideo

Depression and fatigue may be a symptom of Vitamin B deficiency.

By: Ariwasabi

If you are deficient in just one B vitamin, it may be better to purchase it individually rather than as a B complex supplement.

By: Deklofenak

It's always best to talk with a pharmacist before starting a new supplement.

By: asierromero

Individuals with a vitamin B deficiency should consult with a doctor.

By: Kurhan

Doctors may prescribe vitamin B supplements to individuals suffering from severe vitamin deficiencies.

By: monticellllo

The best vitamin B supplement for you will be one that is easy to take and cost effective.

By: Melpomene

Vitamins may interact, so it is always best to discuss any supplement use with a doctor.