How do I Choose the Best Used Kitchen Cabinets?
Used kitchen cabinets may be ideal for those on tight home renovation budgets; they're also popular to use in cottages and rental properties. Antique freestanding kitchen cupboard pieces are also a type of used kitchen cabinet. In order to find the best used kitchen cabinets, both research and inspection are crucial.
Buying used cabinets in person allows you to closely inspect each cabinet before you pay any cash. Unlike new kitchen cabinets that have a warranty, used cupboards are unlikely to come with any guarantee, as they're usually purchased as is. Since the cabinets are used, the previous owners may have refinished them as a do-it-yourself project. Look for even color and consistent texture unless you're interested in a more rustic appearance for your kitchen. Even so, you may be able to negotiate a discount on the price if the used kitchen cabinets have numerous inconsistencies, scratches or dents.
If you plan on purchasing used kitchen cupboards to refinish them yourself, shallow dents and scratches may not matter. Do look for any gashes or cracks that you would need to repair. Check for missing shelves or cabinet hardware; even a few absent hinges or knobs may mean that you'll need to buy all new matching pieces. If all of the hardware is still attached to the used kitchen cabinets, you may be able to leave them as is or simply spray paint everything to create a new look.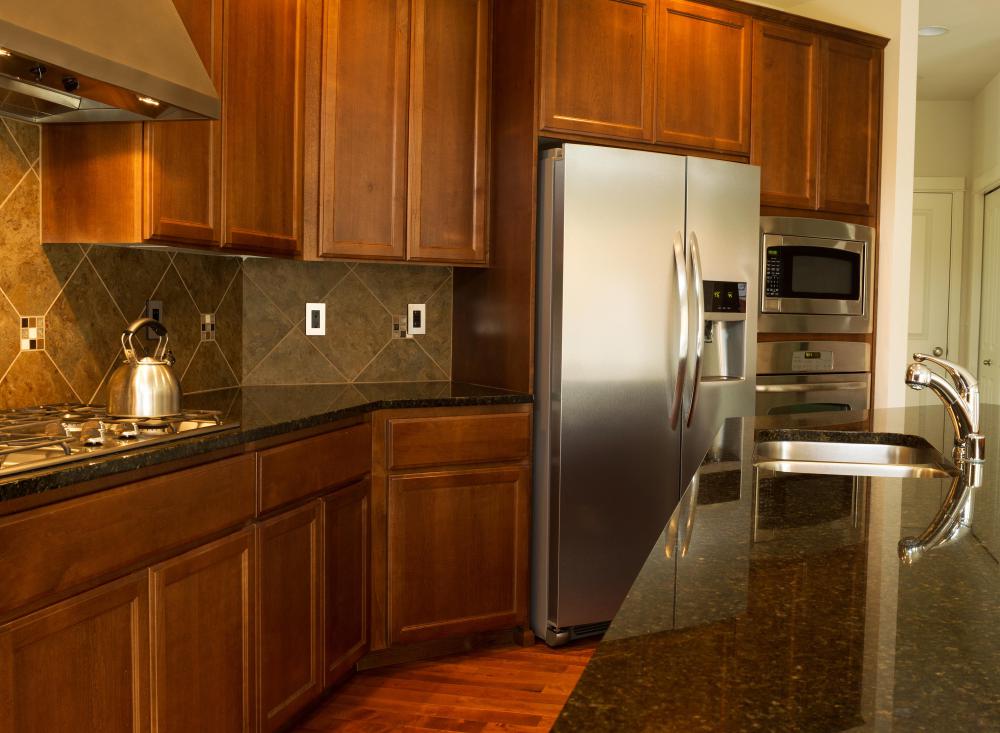 Antique freestanding kitchen cabinets for sale typically have missing hardware. Consider your options for finding replacement pieces that will fit before you decide to purchase an antique pie safe, baking unit or jelly cupboard. In some cases, antiques may still work and look more authentic with a missing hinge or handle here and there. Research the antique used kitchen cabinets you're considering buying to be sure the price the sellers are asking is reasonable for the condition, type and age of the antiques.
Even if you're planning on buying modern used kitchen cabinets, research is important. You should at least know the manufacturer's company name so you can check with the firm or a consumer affairs organization for any product recalls. The cupboards may contain a now prohibited chemical — especially if the cabinets are made of laminates or other synthetic materials rather than wood or metal.
By: Matthias Buehner

Purchasing cabinets with a wood veneer is a good option when looking to save a little money.

By: v_blinov

Keeping in mind what needs to be stored is important when choosing cabinets.

By: tab62

It is important to take measurements before purchasing used kitchen cabinets.