How Do I Choose the Best Tropical Decor?
The best tip for choosing tropical decor is to select items that work together to create the atmosphere you desire. Select items representative of the tropics, such as colorful flowers, palm trees and exotic sea creatures. The tropics are often synonymous with beach fun, easy living and relaxation, so choose decor that is light, breezy and comfortable. Most importantly, it should appeal to you and be representative of your sense of style.
For splashes of color, choose decorations patterned after creatures that are colorful in nature, such as butterflies and saltwater fish. Select vibrant photos, paintings and drawings of tropical flowers, plants and ocean views. Natural materials, such as sand dollars, sea shells and sea fans, can also be used as tropical decor. Starfish can be displayed in groups on tables or in decorative fishing nets, and thick roping can be draped on shelves to create a nautical feel, while candles tucked inside hurricane globes will add a glow to your decor.
Tropical decor should set the mood for relaxation, so comfortable furniture groupings laden with cushions and pillows are in order. Wicker furniture has a light and tropical feel, as do exotic fruit woods and bamboo. For painted furniture, choose shades of white and pastels. Consider purchasing free-moving seating, such as hammocks, hanging chairs and porch swings. These can be used inside and out.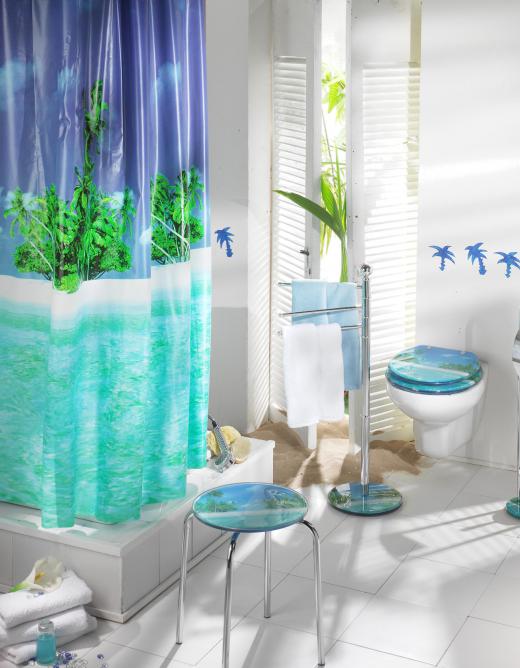 Wall murals and decals featuring ocean sunsets, rainforests and beach scenes can provide a tropical atmosphere in a room. Thatch roofs can be used to top off bars that are indoor or on patios, and bamboo screens can be used to separate seating areas or divide a room. Totem poles, tiki god carvings and tiki masks can add a native feel to your tropical decor.
For a room with a surf theme, choose new or used colorful surf boards. These can be leaned against a wall, hung from the ceiling or converted into a shelf, headboard or table. For added whimsy, purchase some snorkel gear to display, such as swim fins and goggles. Ceiling fans with leaf-shaped blades will add a tropic feel overhead. Also, choose accent pieces made from capiz shells, such as wind chimes, lamps and chandeliers.
Items representative of rainforest inhabitants, such as parrots and toucans, are also a good fit for tropic decor. These touches can be added through colorful figurines, statues and pillows. Surround an indoor water fountain or pond with real or artificial tropical plants for a focal point in a room featuring tropical decor. Conch shells, stained glass butterflies and colorful vases filled with fresh tropical flowers can put the finishing touches on your tropical decor.
AS FEATURED ON:
AS FEATURED ON:

By: rodho

A fake palm tree, which can be used for tropical decor.

By: Monster

Tropical decor is great for bathrooms.

By: uckyo

Tropical flowers, like hibiscus, can add a splash of color to your tropical decor.

By: EdwardSamuel

Shells can add variety to tropical decor.

By: Christopher Howey

Tiki god carvings can add a native feel to your topical decor.

By: LA Photographer

Natural materials like sea fans lend a tropical feel to any house.

By: anyaberkut

A hammock may make relaxing tropical decor.