How do I Choose the Best Triathlon Watches?
Triathlon watches do much more than just tell time. They can keep track of how many calories you burn, how many laps you swim, how far you have run, and your average speed. Some triathlon watches can even keep track of your heart rate if they are used in conjunction with a heart rate monitor strap. Choosing the best triathlon watch depends on your needs, but some basic principles remain the same: choose a watch that is waterproof, easy to read, durable and comfortable, and can keep track of relevant information.
Some triathletes are mostly interested in tracking statistics, such as running mileage and swimming laps. Many triathlon watches do this, and some are fairly inexpensive. Remember that the more features the watch has, the more expensive it is likely to be. Adding features such as calories burned and average speed will make the watch more costly as will adding a heart rate monitor. Triathlon watches that include a heart rate monitor are sold with a chest strap that communicates wirelessly with the watch to accurately track your heart rate before, during, and after exercise.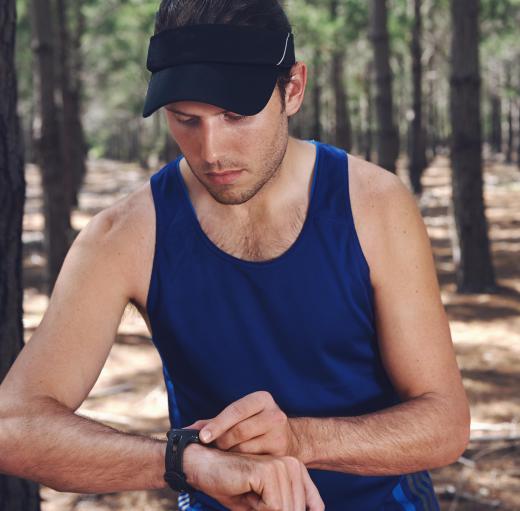 Make sure the display of any triathlon watch you are considering is easy to read in different conditions. Many digital watches feature a back-lit face that is easy to read in the dark. Your watch should have this feature if you plan on running in all weather, especially rainy or dark conditions. The face of the watch should also be scratch-resistant and shatterproof, and the band should be durable enough to withstand a variety of adverse conditions. Make sure the functions of the watch are easy to use, and test the watch to make sure it is easy to switch between functions without too much hassle.
Some of the most advanced triathlon watches on the market today feature global positioning systems, or GPS. A GPS can help you keep track of where you are at any point during a triathlon, and can also help you calculate how fast you must go in order to complete that specific leg of the race in a certain time frame. The cost of a watch that features a GPS will go up exponentially from simpler models, so such a watch is best suited to an advanced triathlete or someone who is taking training very seriously.
AS FEATURED ON:
AS FEATURED ON:

By: Warren Goldswain

Some of the most advanced triathlon watches on the market feature global positioning systems.

By: Dmitry Ersler

Some triathletes are interested in tracking the amount of laps that they have swum during a competition.