How Do I Choose the Best Toenail Kit?
There are countless toenail kits available on the market, and the type of toenail kit you choose will depend on your specific needs. Most kits are designed for caring for the feet generally, for giving a pedicure, or for dealing with ingrown toenails. You'll want to make sure that any kit you choose contains basic supplies, like clippers, manicure scissors, and a file. A kit in a zippered storage bag can help you to keep your toenail supplies together.
For routine toenail maintenance, a toenail kit should include a pair of toenail clippers, which are much bigger and sturdier than fingernail clippers and will make clipping the thicker toenails easier. Compound lever style clippers are some of the most common, and work when you push an elevated lever down, which forces the blades together. Slightly less common are the pliers style, which works when you squeeze the handles together, similar to a pair of scissors. Which style you choose is largely a matter of personal preference, although the pointed tips of the pliers style clipper may make it easier to get under the edges of the nail.
Basic toenails kits should also include a nail file, which can be used to file away sharp and rough edges after clipping. In some cases, the file is attached to a compound lever clipper, and can be twisted out from it's base for use. If this small file is not sufficient for your needs, you may want a kit with larger, separate metal files or emery boards included. Some kits also contain a pumice stone or foot file, which can be used to remove calluses and rough spots from the feet.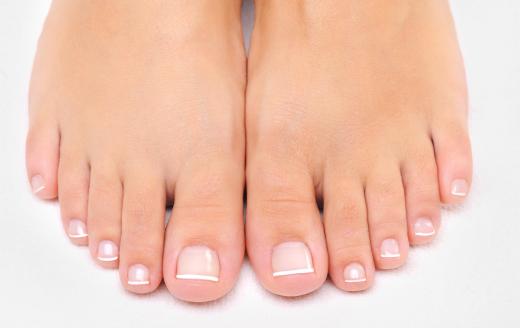 Many toenail kits will include an orange stick, which is a wooden stick with one pointy end and one flat and angled end. The flat end can be used to push back toenail cuticles, while the pointy end can be used to clean dirt and dead skin from under the toenails. Other supplies in a toenail kit can include a pair of manicure scissors, which can be used to trim hangnails and other dead skin, and a nail brush to more thoroughly clean dirt and debris from around and under the toenails. If you are performing a pedicure or simply want more options for keeping your toenails need and clean, you may want a kit that contains these additions.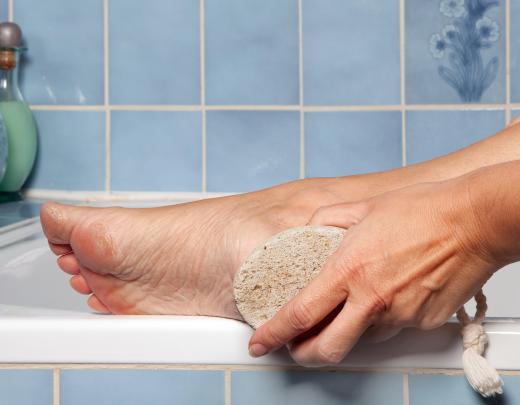 Toenail kits designed for pedicures can also include a selection of nail cosmetics like nail polish or shellac and separators to keep the toes apart during polishing. A kit for weak and brittle nails might include a nail hardener, while kits for dry, brittle, and cracked nails might include a nail moisturizer, a lotion or cream that is meant to be massaged into the nails. There might also be a cuticle remover in a toenail kit, but some believe the chemicals in these products are too harsh and could damage the toenails. Instead, you may prefer a toenail kit that includes a cuticle softener, which simply softens the cuticles so they are easier to push back with an orange stick or trim off with manicure scissors. If you want to change the appearance of your toenails even more, you might also be interested in a French toenail kit, or one which includes artificial toenails.
If you suffer from ingrown toenails, you may want a toenail kit that includes a toenail lifter. This tool allows you to lift the nail from its position so that medicated ointment and a small piece of cotton can be placed under the nail; placing the cotton under the nail helps it to grow in the correct position and not into the skin. Ingrown toenails, if not treated correctly, can become infected, so it's best to see a medical professional if your foot pain becomes severe or you notice pus from the area.
AS FEATURED ON:
AS FEATURED ON:

By: ksena32@ukrpost.ua

Scissors from a toenail kit.

By: Valua Vitaly

A toenail kit designed for pedicures may have more tools than one for basic foot care.

By: Anyka

People with rough spots on their feet might want a toenail kit that includes a pumice stone.

By: Konstantin Tavrov

Creams to soften or remove cuticles are often part of a toenail kit.

By: adam88xx

A toenail kit will have materials designed to treat an ingrown toenail.

By: Coprid

A nail brush can be used to clean dirt and debris from the toenails.

By: terex

Filing the nail to remove dead areas is important when treating toenail issues.