How do I Choose the Best Telescopic Tree Pruner?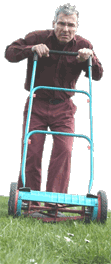 Before choosing any telescopic tree pruner for purchase, you will need to decide whether you want a manual pruner or a gas-powered pruner. Gas-powered telescopic tree pruner models are heavier duty and are meant for bigger jobs, such as cutting larger tree branches. A manual telescopic tree pruner is used for smaller jobs and cutting thinner tree branches. The manual pruner will take more effort than the gas-powered one, but it is also less expensive, better for the environment, and lighter weight. Most people will be satisfied with the manual model, but commercial tree pruners or landscapers may want to consider a gas-powered model.
If you are purchasing a manual telescopic tree pruner, choose one with both a saw on the end as well as a lopper. The lopper is essentially a small opening with a blade mounted inside; a rope extends down to the end of the pruner, and when pulled, the rope activates the blade, which in turn cuts small branches quickly and easily. The large blade is useful for cutting larger branches that the lopper cannot cut; this blade should be thick and sturdy enough to cut through branches, but thin enough to make it useful for getting in between tight branches and brush.
Make sure you choose a telescopic tree pruner that is long enough four your purposes. They come in a wide variety of sizes, and longer pruners will very often be more expensive than shorter ones. If the trees in your yard are not very large, a small or medium sized pruner will be perfect, but larger trees will require a longer pruner. Be sure to examine the telescoping feature carefully for ease of use and stability. Make sure the process of extending the telescopic tree pruner is easy, and once the extensions are in place, be sure they are solidly locked. Sliding or collapsing extensions can lead to injury or damage to the tree.
Choosing a gas-powered telescopic tree pruner is a bit of a different process. You want to be sure all appropriate safety features are available, such as an emergency cut-off switch that will cut power to the pruner should it be necessary. The pruner will have a small chain saw on the end of it to do the cutting; be sure to choose the best bar size for your purposes. The bar is the piece of metal around which the chain will rotate, and it will come in different sizes for different jobs.
Man mowing the grass