How Do I Choose the Best Sunscreen for Eczema?
When choosing sunscreen for eczema, you should try out several different sunscreens and pay close attention to the formulation of each one. Due to the nature of eczema, you may find that you need to try several different brands and types of sun protection before finding one that works well for you. It is generally a good idea to avoid sunscreens that contain fragrance or colors, and you may even want to check sunscreen labels to determine if they are specifically formulated for people with sensitive or allergy-prone skin. In all cases, you want to select a sunscreen that has a sun protection factor (SPF) of at least 15, though a higher SPF is preferable. It is also important that you reapply sunscreen to your skin on a regular basis and, if necessary, protect your skin further with a hat and appropriate clothing.
Eczema is an inflammatory skin condition that causes skin to itch and develop red, scaly patches. These rashes often develop in response to allergens. If you will need to be out in the sun while experiencing an eczema flareup, you will want to wear a sunscreen to further protect your skin. One difficulty, however, is that many people with eczema find that commercial sunscreens also trigger eczema rashes. As such, finding a sunscreen for eczema can be a challenge.
Some experts suggest that, when trying to find a sunscreen for eczema, you concentrate on formulas that rely on physical sunblocks, such as zinc oxide or titanium oxide. Both of these sunblocks are minerals and may be less likely to trigger an eczema flareup or make an existing flareup even worse. Read the label to find out whether the formulation is fragrance-free or contains any coloring agents. You may wish to look for a very simple formula, as additional ingredients increase the risk of triggering a reaction. Women may wish to consider using a mineral foundation on their faces, as mineral foundations typically act as effective sunblocks.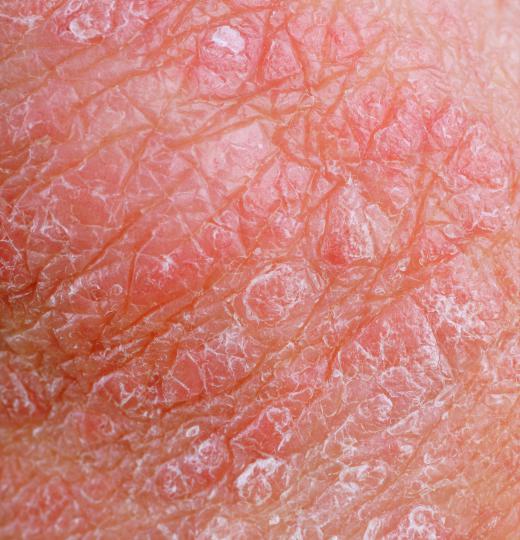 If possible, buy a sample sizes of several different kinds of sunscreen and test them for yourself, keeping track of the ingredients in each sample. If you notice that certain sunscreens trigger a flareup, search the ingredients label and see if you can find commonalities. If you can identify the ingredient or ingredients that irritate your skin, you can avoid them when choosing sunscreen for eczema in the future. Through this process, you will hopefully be able to find a sunscreen for eczema that protects your skin while not aggravating your condition.
AS FEATURED ON:
AS FEATURED ON:

By: Nongnuch Leelaphasuk

Sunscreen.

By: quayside

Sunscreens with fragrances and coloring can be problematic for eczema-prone skin.

By: Myimagine

Eczema rashes can appear anywhere on the body, and are often accompanied by dryness and itching.

By: Antonioguillem

It's wise for everyone to use a sunscreen with as high a sun protection factor (SPF) as possible.

By: red150770

Facial sunscreen may need to be specially formulated for sensitive skin to prevent irritation.

By: Piotr Marcinski

Because skin moisture and elasticity typically decreases with age, older individuals may be particularly susceptible to experiencing eczema.