How Do I Choose the Best Sugar-Free Snacks?
The best sugar-free snacks are nutritious as well as tasty. If you're looking for more of an occasional treat though, sugar-free products with artificial sweeteners can be a good substitute for sugary cookies, cakes and chocolates. If you're a diabetic, you'll have to watch natural sources of sugar such as fruit and some dairy products as well as other high-carbohydrate foods including grains. If you're choosing the best sugar-free snacks for weight loss, be sure to also consider the fat content.
For daily snacks, try to choose sugar-free foods that also offer nutrition. For instance, peanut butter spread on whole grain crackers can be a sugar-free snack that provides a source of protein and fiber. It's important to read peanut butter ingredient labels carefully for a non-sugar version though, as many brands do add sugar. An apple and a piece of cheese has no refined sugar plus many vitamins and calcium. Raw vegetables and a plain yogurt-based dip make a healthy, nutritious snack.
For snacks that are treats to replace sugary versions, it's a good idea to try smaller packages or servings of these before buying larger ones. Some sugar-free snacks such as chocolate, cookies, candy, pudding, ice cream and cake taste delicious and much like their sugary counterparts, while other products may have an unpleasant aftertaste. Once you try different brands to find non-sugar snacks you like, watch for these items to go on sale so you can have them on hand.
The amount of sugar-free foods you eat that are sweetened with artificial sweeteners such as maltitol should be limited because they can have a laxative effect. Some artificial sweeteners found in sugar-free snacks including chocolates, cake, cookies and hard candy can upset the digestive system. Consuming only small amounts of these is best until you know how they affect your system. Be sure to calculate the fat content of sugar-free cookies, chocolate and cakes, especially as part of your diet. Hard candy typically doesn't contain fat for most varieties.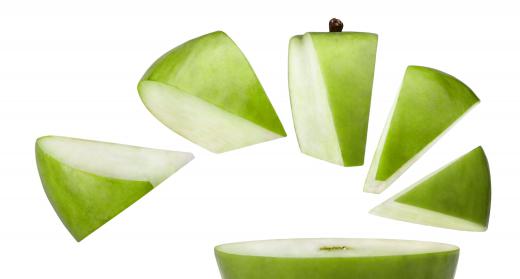 When looking for snacks without refined sugars, always check the labels. For example, many canned fruits are packed in heavy syrup, which means they contain a lot of sugar. Water or juice-packed canned fruits are better choices for refined sugar-free snacks. Unsweetened applesauce can be another great snack choice, plus it may be used in baking to reduce the amount of sugar and fat needed. Adding cinnamon to applesauce for snacking or baking can add a pleasant sweet taste without sugar.
AS FEATURED ON:
AS FEATURED ON:

By: Colinda McKie

Plain yogurt is a healthy, sugar-free snack.

By: Liv Friis-larsen

Having a cup of green tea with a sugar-free snack makes the meal more enjoyable.

By: kalumander

Apples are a healthy alternative to sugary snacks.

By: suksao

Crackers are a sugar-free snack.

By: Przemyslaw Sitek

Air popped popcorn is sugar free and contains a small amount of protein and fiber.

By: Kadmy

Reading labels carefully can help to identify hidden sugars in many products.

By: mitrs3

Unsweetened applesauce is a nutritious sugar-free snack.