How do I Choose the Best Stained Glass Patterns?
Choosing the best stained glass patterns can usually be accomplished by considering both your skill level and the decor style in which the finished piece will be displayed. In general, it's better to choose your pattern before you choose the glass so you can pick the most flattering colors. With your basic stained glass craft skill level in mind, as well as where the completed project will be housed, browsing through pattern books or websites offering patterns can help keep you focused on the best design.
If you're a beginner at stained glass work, choose a pattern with a maximum of 12-15 pieces. For the first few projects, even a much lower number of pattern pieces would be advisable. If you take on stained glass patterns with too many pieces before being well practiced at soldering them together, the result may have you feeling discouraged if you see blobs rather than uniform lines. Especially if you want to make a stained glass project for a modern style of home, look for a pattern with strong, simple and straight lines. Not only does this type of design suit modern decors, it's also the easiest for stained glass novices to use.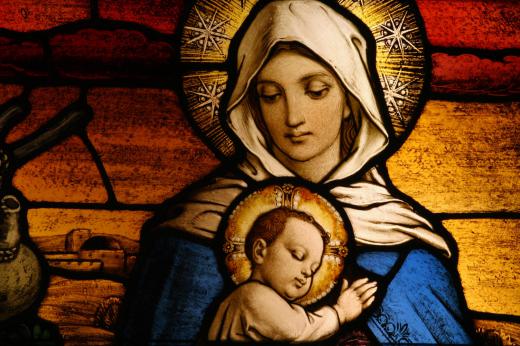 Long, straight-edged sections are the easiest to cut from glass as well as solder together after cutting. A simple design with fewer pieces will be faster to finish than complex, detailed stained glass patterns. Accomplishing something you like without a huge time investment can help encourage you to keep learning and practicing the craft of stained glass. When you gain experience, pick more time consuming patterns with a larger number of pieces and curved lines.
Stained glass patterns with curved lines are often ideal for romantic interiors. Victorian style patterns for stained glass often include flowers and other motifs which aren't usually as well suited to modern decors. Pastel pinks, greens and textured whites can be ideal glass colors for these types of patterns. When choosing a stained glass pattern for a cottage, consider one that can be done in the natural colors of the sea, sky, sun, forests or mountains. For instance, sun and water scenes as well as seashell, bird, butterfly or tree motifs can be ideal for sun catcher types of stained glass patterns to accent a cottage window.
If you're making stained glass projects to give as gifts, consider each person's home so you can best capture the particular mood, style and colors there. It's a good idea to personalize the gift as much as possible, such as by choosing a plant or floral pattern for a gardening buff. When you're picking stained glass patterns to make items to sell such as at a flea market or craft fair, then choose ones with the widest possible appeal.
AS FEATURED ON:
AS FEATURED ON:

By: CURAphotography

Stained glass.

By: zatletic

A stained glass window.