How do I Choose the Best Stain Remover?
It can happen on any surface at any given time—an unfortunate spill leaves an undesirable stain. If you are lucky, you may be able to just rinse it out with water and a rag. Most of the time, however, you will need to decide on a chemical stain remover or home remedy that will do the best job returning the affected area back to normal. There are several factors you will need to consider before deciding which one to try first, and if it doesn't work, you may need a backup plan.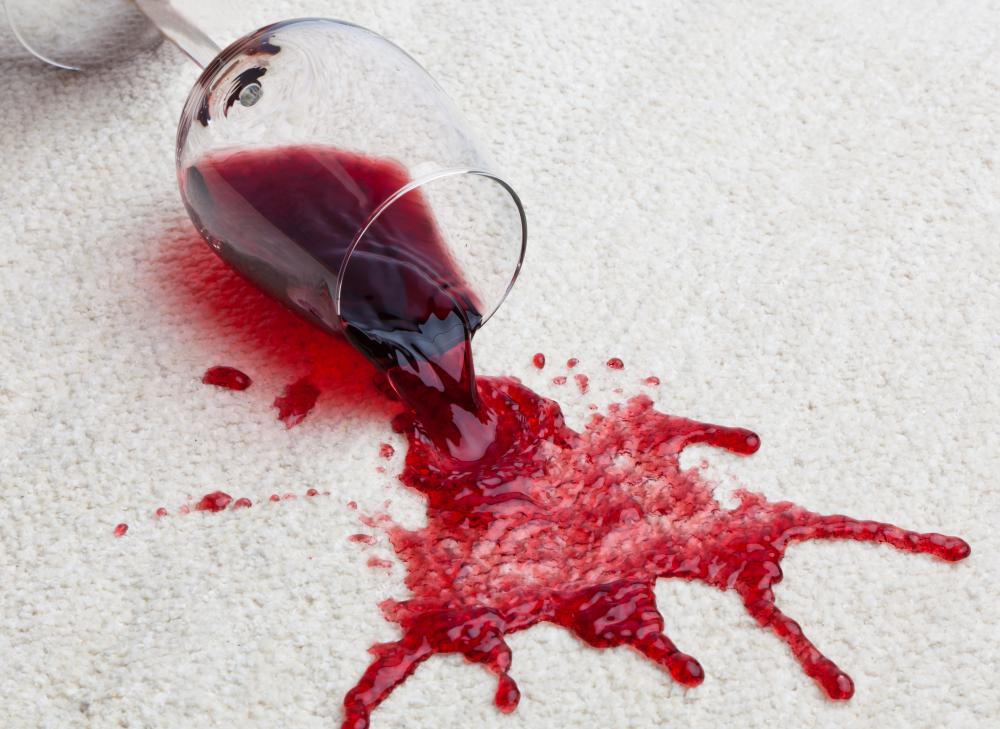 There are two things necessary for a stain to exist. The first of these is the substance that caused the stain, some of which can be much more likely to leave a stain than others. The second is the surface marred by that substance.
Liquid substances like wine, grape juice, coffee or grease can leave permanent stains if not treated correctly. A stain remover can be made to work specifically on one or several types of liquids.
Clothing is one of the most common surfaces needing to be treated for stains. There are many types of fabrics, and all will be affected in different ways by staining substances. Carpet and furniture upholstery are other surfaces that commonly get stained, and some types are more likely to repel stains than others. Some are even designed to do so, as with stain-proof carpet. Hard surfaces, such as walls and tabletops are not always impervious to stains and may require a different type of treatment altogether.
Once you've taken note of what caused the stain and the surface that needs to be cleaned, you will want to choose the stain remover that will do the best job. Most people immediately look to store-bought solvents and chemicals, while other, thriftier consumers will try home remedies. The label on the containers of store solvents will contain much useful information that may inform you as to whether it is the right one to try. This is most important since some chemicals can dissolve certain materials and ruin them completely. There are countless sources to match you up with the right stain remover when you note the staining substance along with the fabric that is to be cleaned—a little research goes a long way toward preventing a disaster.
One of the most common ways to remove clothing stains is by using chemicals that oxidize them, including household bleach and hydrogen peroxide. Bleach, however, may only lighten the stain rather than remove it. Oxidizing sprays or wipes designed for stain removal by pre-treating the stain prior to washing can be very effective when used quickly after the spill. It is best to keep something on hand rather than trying to rush out to pick something up when a stain occurs.
It is typically not best to use oxidizing or bleaching chemicals on carpet or upholstery stains because the solvents themselves can leave a stain, unless the upholstery can be removed and washed in a machine or by hand. The same rules apply when finding the right stain remover: It is vital to scan the label to be sure the cleaner is compatible with the surface type. Don't forget also to test the surface with water first to make sure it doesn't leave a stain.