How Do I Choose the Best Small Excavator?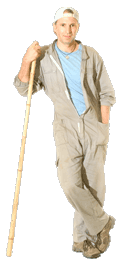 A small excavator may be the perfect answer to the digging and earthmoving needs around the home, farm, or even at a job site, but it is important to remember that the term "small" can refer to many sizes of excavator. The best way to begin choosing the best small excavator for you is to determine how you are most likely to use the machine; this means determining how deep you need to dig, how much earth you need to move, and where you will be operating the machine.
The length of the boom arm on the small excavator will generally dictate how deep you will be able to dig with the machine. Check with the dealer or manufacturer to find out the load limits and digging depth limits of a particular machine before you buy or rent. The size of the bucket will generally have the biggest impact on how much earth can be moved: larger buckets will move more earth, while smaller, narrower ones will move less earth. There are advantages to a smaller bucket, however: the small bucket will be able to dig in tighter areas, and it will be able to dig narrower trenches for piping or other items to be buried.
Some small excavator models are gasoline-powered, while others are diesel-powered. The best engine for you will depend on how regularly you will use the machine, for what purposes, and in what conditions. Lighter-duty applications may only call for a gasoline-powered engine, while heavy-duty applications and regular use may call for a diesel-powered small excavator. The size of the engine will also dictate how powerful the machine will be; ask a dealer or manufacturer for recommendations on the appropriate engine size and type for your purposes.
It helps to choose a small excavator with helpful accessories and features such as a quick-coupler and outriggers. A quick-coupler will allow you to switch the bucket out with other attachments quickly and easily. Outriggers will add stability to the excavator during use, particularly on uneven surfaces. These features will generally raise the cost of the small excavator, but the investment may be worth the purchase price, as these features will improve efficiency and reduce frustration.
The size and length of the excavator's tracks will have an impact on handling and stability. Research manufacturer specifications on the tracks to ensure the excavator you choose is suitable for the type of work you will be doing. Stability will be especially important on uneven surfaces and soft ground.
Worker