How Do I Choose the Best Sirloin Steak Sauce?
When you are trying to choose a sirloin steak sauce, it can be helpful to think about the type of meal you are serving. Soy might be best alongside rice or noodles, but a commercial steak sauce might work well with a salad and baked potato. You may want to marinate your meat before cooking sirloin; either barbeque or sweet and sour sauce could be used. Generally speaking, you should use a thicker sauce if you are basting this beef than if you simply want to add flavor to the steak after cooking.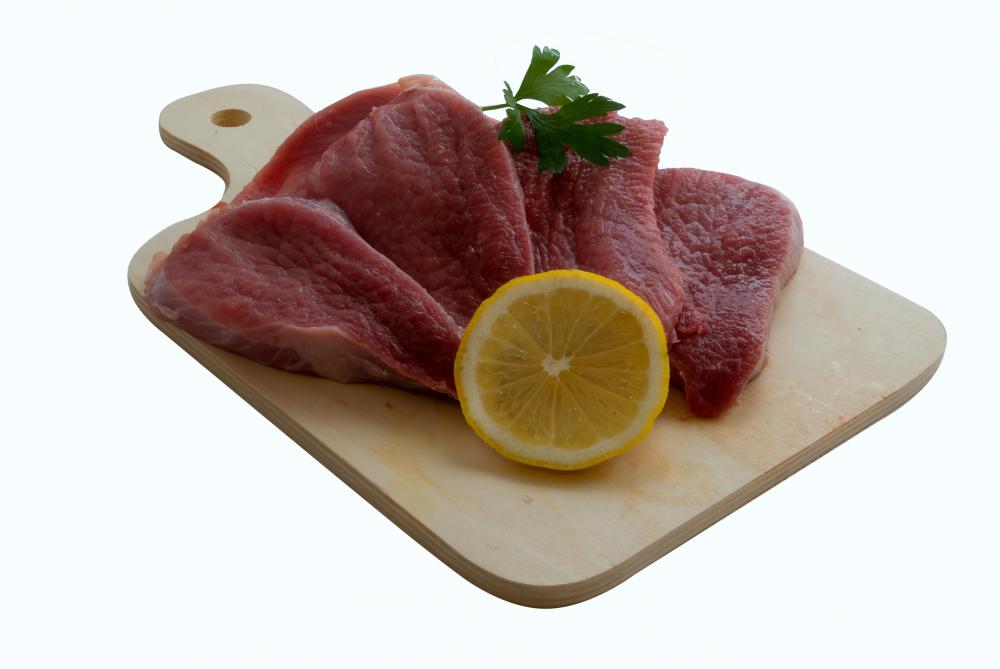 Sirloin steak can be part of a variety of meal plans, and the steak sauce you use should complement the other foods you are eating. The good news is that a sirloin steak sauce can be very simple, so you may already have things that can be used to flavor these cuts of beef. Soy sauce can be a tasty addition to sirloin, and might be a good choice when serving Asian meals. If you are eating sirloin with vegetables, salad, or potatoes, you may want a store-bought type made from a tomato base and a variety of spices. Hot sauce, ketchup, and Worcestershire sauce are some other things you can use to flavor a sirloin steak.
Some cooks like to marinate their steaks, and if this is the case, you may want to consider using barbeque or sweet and sour sauce to do this. You can either purchase these sauces from a store, or if you are adventurous, you may want to make your own. Ketchup, brown sugar, and vinegar can be used along with various spices to make a barbeque sauce. Brown sugar, lemon, and pineapple might be mixed to form sweet and sour sauce. You could also buy sirloin steak sauce with a hickory-smoked flavor, and one of these can be a tasty marinade.
Whether you are marinating the meat or adding sauce after cooking, it is very important to choose a sirloin steak sauce that is the right consistency. If you are marinating the steak or adding sauce to it while grilling, it is important to choose a thick product that will adhere to the beef without being clumpy. When choosing a sauce to put on a cooked sirloin, it should be somewhat thinner but not runny. It is perfectly acceptable to use one sauce for marinating the steak and another for drizzling on it after it is cooked provided their flavors do not compete with each other.
By: baibaz

Barbeque sauce is one option to use on a sirloin steak.

By: Blind Shot

Sirloin steak can be a part of a variety of meal plans.

By: www.fzd.it

Thick steak sauces are best for grilling.