How Do I Choose the Best Shampoo for Split Ends?
A shampoo for split ends usually does one of two things: temporarily bind and smooth split ends or help prevent split ends by moisturizing after cleaning your hair. It is not possible to permanently put a split end back together, but the former type of split end shampoo can make your hair look healthier. The latter type is for hair that does not already have split ends and aims to prevent them by moisturizing the ends of your hair. Before finding the best shampoo, determine if you already have split ends or not by looking closely at the tips of your hair. If the tips are obviously split or are white in color, you have split ends.
Though some shampoos promise to cure split ends, studies show that these claims are an exaggeration at best. Split end treatments that aim to "cure" the damage and reverse split ends cannot actually achieve this goal, and you are likely best-off avoiding companies that make outlandish claims. What a shampoo for split ends can do is make your hair feel and look smoother. It might also tame fly-aways and make your hair look much shinier and healthier overall. At the end of the day, however, your split ends are still there and must be removed by getting a haircut.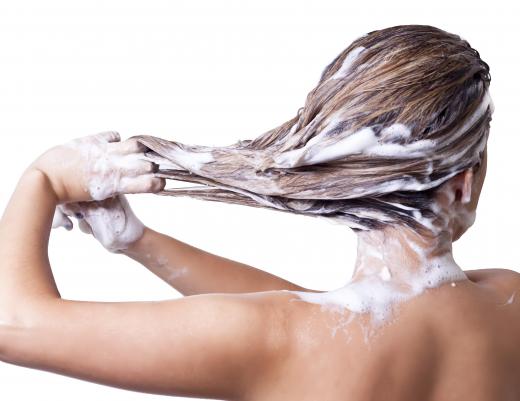 The second type of shampoo for split ends aims to prevent split ends in the first place. This only works if you do not already have split ends, so you should get a hair trim if you have not had one within the past six weeks. These shampoos often emphasize their moisturizing properties, but a separate moisturizer is usually recommended. Look for a shampoo that has good reviews online and does not contain ingredients known to be harsh on hair, like sodium lauryl sulfate and ammonium lauryl sulfate. In addition, certain natural additives are not necessarily good for your hair either, such as menthol, some essential oils, and balm mint.
Some causes of split ends are heat styling, hair dye, and straightening treatments like relaxers. It is typically recommended to get a hair trim every six weeks — less if you regularly apply heat or harsh chemicals to your hair. A shampoo for split ends can help prevent split ends or give the appearance of no split ends to some degree, but everyone needs a haircut sooner or later. In fact, the longer you wait to cut off split ends, the more the hair stylist must cut off to eliminate all split ends. A split end continues to split up the shaft until there is no more hair to split or the hair falls out, though this process typically takes years to complete.


By: Dessie

Plastic bottles of shampoo.

By: Nobilior

Split ends occur when the protective cuticle layer of the hair shaft is damaged, which causes the middle layer to become dry and split.

By: esp2k

Split end shampoo can help to make hair look healthier.

By: Rido

A stylist can trim a person's split ends.

By: Valua Vitaly

Frequently dyeing hair can cause hair to become extremely damaged, causing split ends.