How do I Choose the Best Scrapbook Design?
Choosing the best scrapbook design for you helps ensure a good project outcome. After all, scrapbooking a whole photo album by carefully arranging acid-free stickers, papers and other materials around your favorite photographs often takes a lot of time as well as concentration. You should give some thought in picking a scrapbook, or album, that captures the mood of your photo collection to give a good start to your project design.
For example, to display black and white photographs of relatives, choose colors very carefully and limit your choices to avoid taking the focus away from the pictures. You may want to limit your color scheme to black and white plus one or two complementary colors for interest. Complementary colors are the pairs opposite each other on the color wheel such as red and green, orange and blue, and purple and yellow.
Choose stickers that keep the style and tone. To enhance the black and white photo collection described above, look for stickers, ribbons and papers that not only fit in with your minimalistic color scheme, but also aren't too modern looking. Antique car stickers, romantic roses, Victorian ladies hats, or things reminiscent of days gone by would be suitable.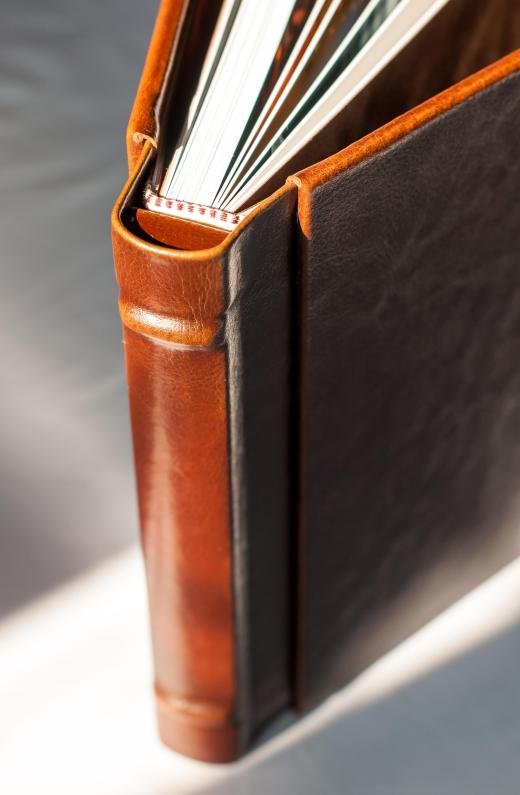 If, on the other hand, your scrapbook includes color photographs, you may want to add much more color while concentrating on the theme of family. A chronological scrapbook design often works best for family albums. For instance, you could devote the first pages to the wife and husband's respective families with their relatives as well as childhood pictures displayed. Then, family photos that include the couple's children could be added in the kids' birth order.
To add interest to any family album scrapbook design, even a chronological one by date, you could include feature pages. For instance, you could create a photo page of family pets. Choose colors that suit all of the pets. A photograph of a black dog may not show up well matted on dark purple scrapbook paper, while a yellow stripe may coordinate in a striking way with the same photo.
You may want to make a page title such as "Our Family Pets" and add cute, pet-related stickers like little feeding dishes, toys and grooming brushes. On your feature pages, you may want to include papers with text, such as each pet's name and birthday. You could add fun information in your scrapbook design like "Barney's favorite things: Chewing up slippers, car rides and barking at the floor mop."
AS FEATURED ON:
AS FEATURED ON:

By: terex

Scissors for scrapbooking.

By: SilviuFlorin

Scrapbooking an entire photo album can take a lot of time and concentration.

By: Monkey Business

Organizing materials by date is one way of making an interesting family album scrapbook.

By: Sergey Mostovoy

Scrapbook designs often reflect the overall theme or event commemorated by the scrapbook.

By: MaryPerry

An embosser is a popular tool for scrapbooking.

By: imtmphoto

Family photos of parents and children are often used in scrapbook design.

By: eldadcarin

Fabric remnants can be used to add flourishes in scrapbook projects.