How do I Choose the Best Saw Palmetto Capsules?
Choosing the best saw palmetto capsules is usually a matter of figuring out why you want to take the supplements, then researching the options that are available to you. In most places you'll have a choice between a number of different brands, formulations, and dosages. The best one for you is usually the one that meets the most of your needs. It's important to remember that "best" in this context is very subjective, and can vary a lot from person to person. Getting feedback from others can be a good place to start, but ultimately the decision should be driven by your own unique circumstances. If you're uncertain, getting the advice of a medical expert might be helpful. Most healthcare providers recommend that people only take this and other supplements after getting a medical evaluation, though in most cases this isn't required.
Identify Your Goals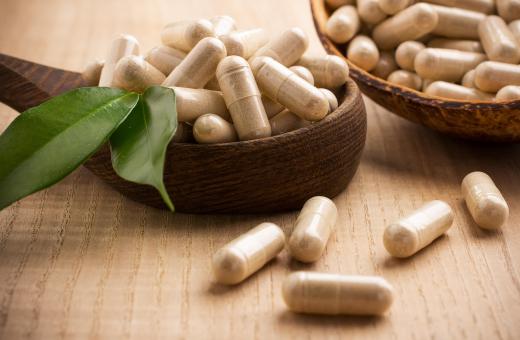 One of the first things you should do when you're thinking about which capsule to buy is to identify the reasons you want to start taking the supplement and set out the goals you're hoping to achieve. Common uses for saw palmetto include treating prostate problems, urinary system dysfunctions, hair loss, and acne; women sometimes also seek out this supplement to increase their milk production while breastfeeding and to augment breast tissue growth.
Most of the capsules that are available commercially are designed to be more or less universal, which means that they can be used to treat multiple conditions at once. Sometimes formulations are made with specific uses in mind, though, and in these cases it usually makes sense to have some concept of what you plan to do with the capsules before you start deciding between usage specifications.
Research the Available Options
Capsules aren't the only way for people to get saw palmetto extract, though it does tend to be one of the easiest. The extract, which is made from the fruit of the Serenoa rapens plant, is usually also available as a liquid suspension and sometimes also as a powder.
Most capsules are little more than controlled doses of liquid extract covered in a gelatin or other easily dissolvable casing. They're usually pretty easy to break if you want to do something like add the liquid to shampoo, which is a common hair loss remedy, or incorporate it with hot tea or some other beverage. When kept whole, though, the advantages are many; they are easy to swallow, precise in their dosing, and simple to transport.
Think About Additives and Compound Capsules
When selecting saw palmetto capsules, most herbal experts suggest taking capsules that don't contain any dyes, preservatives, or sugar. Studies have shown that these additional ingredients do not enhance the effect of the herb and are unnecessary, and might in some cases actually disrupt its efficacy.
It's not uncommon for capsule manufacturers to add certain other ingredients, though, particularly when the supplement is targeted at specific conditions. Supplements made primarily for prostate relief might include things like stinging nettle, rosemary, and lycopene, for instance, and when intended for breast augmentation, the herb is often combined with ingredients like fenugreek and wild yam to inhibit the production of testosterone. Taking additional herbal supplements that you don't need isn't necessarily problematic, but it can impact the supplement's efficacy and can also be a problem where drug interactions are concerned. If you're taking prescription medications or using other herbal supplements at the same time as saw palmetto, it's usually a good idea to talk to a physician or pharmacist to avoid possible problems.
Consider Dosage Guidelines
Another part of choosing the best capsules is looking at how they're dosed. In its capsule form, saw palmetto can usually be found in 230mg or 160mg doses. The lower dosage capsules should be taken twice a day for the average sized adult. A dose of 160mg can be taken twice in a 24 hour period, whereas a 230mg dose is more often taken only once, typically with a meal.
AS FEATURED ON:
AS FEATURED ON:

By: gitusik

Saw palmetto capsules may be used to treat prostrate problems.

By: Barabas Attila

Saw palmetto use by women may boost lactation and breast size in addition to stopping hair loss.

By: Alliance

Saw palmetto can be used as a special ingredient in shampoos that can help women with hair loss.