How do I Choose the Best Roasting Pan?
When choosing the best roasting pan, you will want to consider what you will be cooking in it and how often you will use it. You may also want to choose the type of material your roasting pan is made from. Cast iron is a heavy duty type of material and will cook food evenly, but it is very heavy. Aluminum can make the pan much lighter but can sometimes bend under high heat. Anodized aluminum can make the pan sturdier, while stainless steel is a popular material for pans because it is not too heavy but works well in the oven.
Some pans are enamel-coated, nonstick, or come with accessories. These pans are traditionally a large oval shape, but can be other shapes as well. An enamel-coated roaster helps to prevent the metal on the pan from seeping into your food. The enamel also helps it to have a smooth surface. A nonstick roaster is supposed to prevent the food from getting stuck to the sides or bottom of the pan.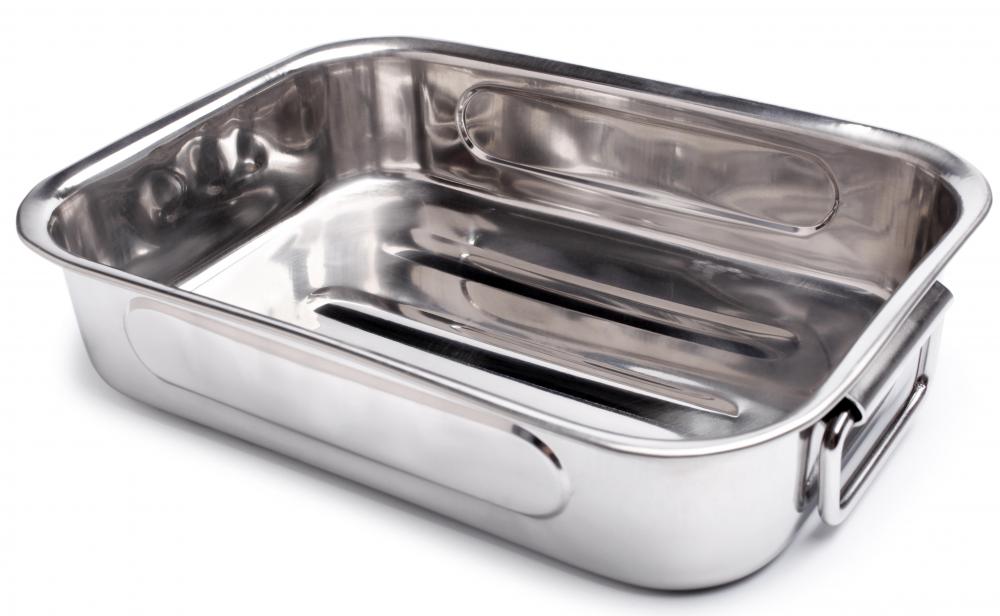 A roasting pan can also come with a rack to go down inside the pan. The purpose of the rack is to keep the meat from touching the bottom of the pan and help it cook evenly. Many roasters also come with a lid. A lid is important, as it will trap the heat in the pan and help to cook the food faster.
Many people buy a roasting pan that is an oval shape because it works well for cooking chickens or turkeys. If you want a pan for cooking smaller birds or want to cook two or more birds side by side, you may want a rectangular roaster. You should consider the handles on your roasting pan as well. You will need handles that will support the heavy pan, but do not get in the way when putting the pan in the oven.
Your roasting pan should be versatile and hold many different foods. These pans are typically useful for cooking large meals, but can also be used for your family dinner as well. Roasting pans can be expensive, but you may want to compare the cost to how much you will use your pan and enjoy the meals that come out of it.