How Do I Choose the Best Retaining Wall Materials?
There are many types of retaining wall materials that may be used to design and build such a wall. Selecting the best materials requires considering color, texture, overall cost and the ability of certain materials to function within a particular environment. Many of the available retaining wall materials are produced in a wide selection of colors and textures that are designed to look like almost any type of surface from brick or wood to rough hewn stone. Other retaining wall materials include traditional stacked blocks, field-dressed stone, poured concrete, glass and mortar-less blocks in a wide variety of shapes, sizes and colors. Choosing the right retaining wall materials means knowing what your specific needs are before beginning construction.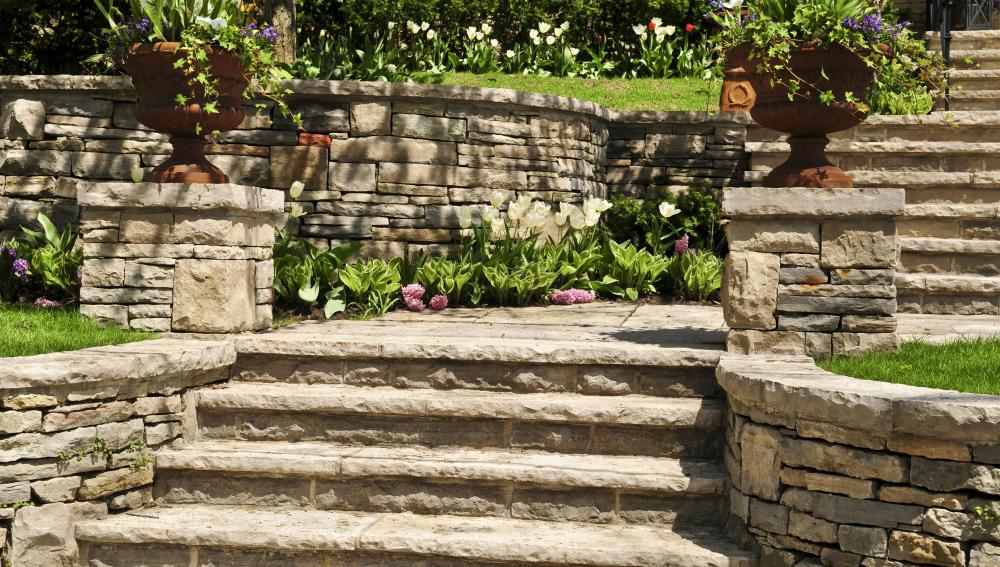 The first rule for choosing retaining wall materials is to select the right material for the right job. Retaining walls that are only a few feet high will likely not require the strength and durability of a much taller retaining wall. For example, a short retaining wall that encircles or borders a garden is not going to need a lot of strength. This shorter wall may only need landscape timbers or dry stacked blocks without mortar or any other support. A retaining wall that is more than 5 or 6 feet (1.5 or 1.8 meters) in height that is going to hold back a large landscaped area may require something stronger, like poured concrete or a conventional reinforced block wall comprised of stone or brick and mortar.
The overall look and feel of a wall is also important when deciding on the best retaining wall materials. Some mortar-less stackable blocks made of reinforced pre-cast concrete or other durable materials are designed to resemble a stone wall that might be seen somewhere in Europe. Natural stone is also a good choice. The advantage to using a stone indigenous to your area is the savings in transportation costs as well as conserving the resources required to cut, prepare, and ship stones from some far away quarry.
Wood is another good choice when considering retaining wall materials. While not as durable and long-lasting as stone or concrete, wood retaining walls can provide a more organic and warmer look to a landscape for less cost. Wood is an organic material and subject to insects infestation and rot, so be sure to get all the pertinent information on the types of lumber used for retaining walls. Consider pressure-treated fir, redwood, or previously used railroad ties. Redwood has tremendous natural resistance to rot and insects, and if construction grade heartwood lumber is used along with proper drainage, a redwood retaining wall could easily last 20 years or more.
Pressure-treated lumber is subjected to high pressure and then injected with chemicals designed to preserve the wood and add protection against rot, bacteria, and insect attack. Retaining walls that use pressure-treated lumber must be built to prevent direct contact with moisture and soil but cost a bit less than redwood and will last longer if properly built. Used railroad ties are perhaps the best all around choice for retaining wall materials because of their versatility in design and overall durability. Railroad ties are treated with an asphalt-like material called creosote which prevents them from rotting, so they can last for years. Using old railroad ties means finding a new use for a discarded product which uses fewer resources and helps the planet.
Selecting the right material, such as concrete blocks, is the first step in building a retaining wall.

Wood is not as durable as stone or concrete when designing a retaining wall.

Buying retaining wall materials derived from nearby quarries may be less expensive than purchasing exotic materials.

Redwood is considered resistant to rot and insects.