How do I Choose the Best Receipt Organizer?
When looking for a receipt organizer, you should typically consider what type of organizer you want and where you plan on using it. There are a number of different styles and designs of receipt organizers, and you should decide on the size of the organizer you need and how you can use it to organize your receipts. If you have a great number of receipts, you should typically look for an organizer that is flexible, such as an accordion style organizer, and one with divided sections. You might also look for a receipt organizer that will work in a specific space, such as on a desktop or a car visor.
A receipt organizer is a piece of storage equipment used to store receipts, usually in a way that separates and organizes them. Such organizers are available in a number of styles, and they can be made from a wide array of materials. You should look for an organizer that will be durable and provide you with a great deal of usefulness. A receipt organizer with a zipper can be useful, but zippers can be prone to breaking with extensive use, and so a clasp that ties or Velcro may be a better choice.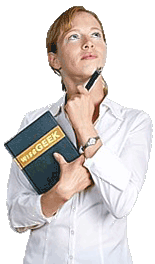 You should also look for a receipt organizer that will provide you with the functionality you need. This means you should find one that is large enough for your purposes, both in terms of length and how many receipts you can reasonably store. An accordion style organizer is often a good choice, as this can fit in many different spaces and hold a good number of receipts. You might also choose a receipt organizer that has dividers to allow you to organize your receipts by month or service.
There are a number of organizers available designed for use in a particular space, and you might consider a receipt organizer that will work well for the place in which you are most likely to use it. A desktop organizer, for example, will often have a flat bottom and may be made of plastic or metal for greater longevity. Small organizers may be able to fit in a purse or brief case, and will often work well as temporary organizers before moving receipts into larger organizers for long-term storage. You can also find a visor receipt organizer that attaches to a sun visor in a motor vehicle, providing excellent storage options and ease of use while seated in a vehicle.
AS FEATURED ON:
AS FEATURED ON:

Woman holding a book