How Do I Choose the Best Pulley Kit?
A pulley kit may be designed for use with very specific machines or devices, or it may be used for more general purposes. You will need to decide what you intend to use the pulley kit for, and then you will need to buy the appropriate size, function, material, and so on for that application. Lightweight, inexpensive pulley kits can be used to hoist items, move them, or simply enhance storage capabilities in a garage or workshop; heavy-duty pulleys may be used for industrial purposes or for use in automobile engines.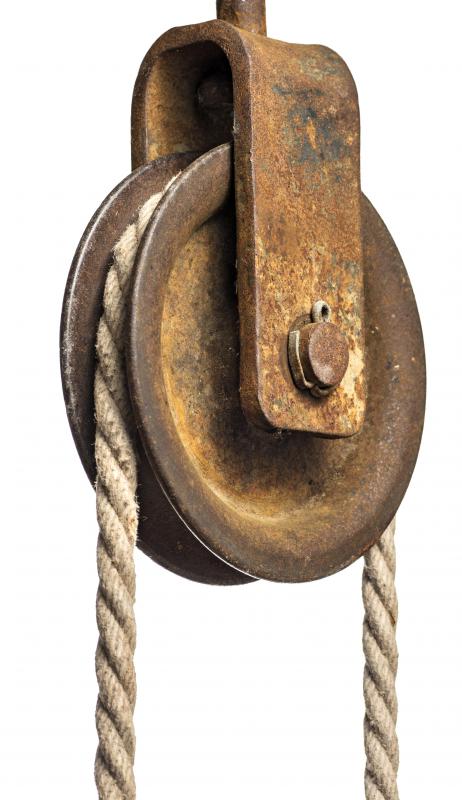 If you are buying a pulley kit for an engine, you will need to find out what pulley kit is appropriate for use in the specific make and model of your vehicle. This information can usually be found on manufacturer's websites, by contacting the manufacturer directly, or by going to an auto parts store to find the appropriate kit. In other cases, a bit more research may be necessary; it may help to remove one or more of the pulleys to bring to a parts store so the correct part can be found. Model numbers may be stamped into the pulleys, making identification of the correct size and shape much easier.
Other uses for a pulley kit will require different materials and functions. Industrial pulley kits can be used to haul goods or lift them off the ground; the size of the pulley system may dictate how much weight can be hauled, as can the number of pulleys included in the system. These kits often feature chains or cables rather than ropes or belts for added strength, and the pulley system may be motorized to allow for greater strength and usability. Choosing the best pulley kit in this instance starts with determining what types of items you intend to haul, and how far you intend to haul them. These systems are usually sold as kits that need to be installed properly to work safely. Choose one that is rated for the weight you will haul, and one with simple controls so you can start and stop the system quickly. Emergency shut-off systems are valuable as well.
Home storage can be made much more efficient using plastic or aluminum pulleys with ropes or belts. Be sure to choose a pulley kit that includes all the necessary mounting hardware, several pulleys so the system can be customized, and high-quality materials that will not be likely to crack or wear out too quickly. These kits are usually fairly inexpensive, so spending a bit more on a higher quality kit will save you a lot of hassle down the road.
A simple rope pulley.

Several wooden pulleys on a boat.

Pulleys often have a groove around their circumference that guides a chain, cable, belt or rope.

Automobile engines typically use pulley systems, such as those that work with the alternator, fans, water pumps, and timing gears.