How Do I Choose the Best plus Size Wedding Gown?
There are many ways to ensure that a plus size wedding gown provides all the beauty and radiance necessary for a fabulous wedding outfit. Some factors to consider include material choice, cut, and color. Figuring out which features to accentuate and which to minimize can also help pave the way to a spectacular plus size wedding gown.
Material choice may be a very important factor in choosing a gown. Fabrics with a strong satin sheen tend to highlight any imperfections in a silhouette. Choosing a fabric with a less shiny appearance, such as silk shantung or duchess silk, can still add a glowing sheen without accentuating less-preferable features. Stretch fabrics, such as as stretch satin or stretch lace, can also cling tightly to the body, providing a less smooth body line.
The cut of a plus size wedding gown can not only help create a beautiful figure, but may also be used to show personal style. An A-line dress is often recommended for larger brides, as it helps create the illusion of an hourglass figure. Corset-style tops with full skirts can also be excellent for a plus size bride, and can be built to help minimize a full bust. Cuts that skim the body line rather than clinging tightly can help create a smooth shape overall.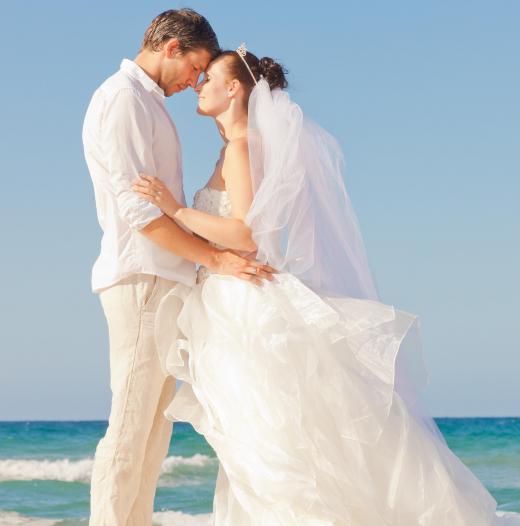 The days of white-only weddings are well in the past, and many brides have fun choosing alternate hues or splashing bright colors onto traditional wedding gown palettes. Choosing a color that matches well with skin tone can truly make the difference between an ordinary and extraordinary wedding dress. Instead of pure white, consider aged ivory, champagne, rum pink, or even gold. Adding beading, ribbons or embroidery in a brighter color can also help draw the eye to good features, or accentuate the waistline.
Every bride, whatever her dress size, has good and bad features to manage. Big, beautiful brides can highlight great features by choosing a plus size wedding gown that compliments their individual look. For instance, a V neckline can show off arms, shoulders and torso, while a corset top can make a trim waist stand out. For minimizing purposes, consider choosing a top with boning to reduce chest size, gently ruched or detailed waists to hide a tummy, or a lovely lace bolero to cover up arms.
When choosing a plus size wedding gown, the most important consideration is whether the bride feels happy with the choice. If a bride falls in love with a style that fits into none of the above categories, it may still be the right gown for her. With many designers and even couture houses creating beautiful plus size dresses for the modern bride, choosing a gown for a larger bride can be more fun than ever before.
AS FEATURED ON:
AS FEATURED ON:

By: sandraadamson

A close up of a plus size wedding dress.

By: detailblick

A couple getting married.

By: Zoja

A bride with a manicure that complements her dress.