How do I Choose the Best Pedicure Supplies?
If you will be working as a nail technician at a salon, or opening your own business, it will generally be necessary to purchase your own pedicure supplies. An established salon will frequently already have pedicure tools, or will be able to recommend a supplier from which to purchase new supplies. Otherwise, you may begin choosing the best pedicure supplies by doing your own research, asking other technicians for recommendations, and searching online.
Some of the things you may need to purchase include a pedicure chair, nail clippers, nail files, foot buffers, a foot bath, foot lotion, cuticle pushers and cuticle cream, and many different nail polish colors. Each of these items may be ordered from a business supplier or purchased online. Although it may be more expensive to purchase high-quality items, it will usually pay off over the long term, because they will not need to be replaced as frequently.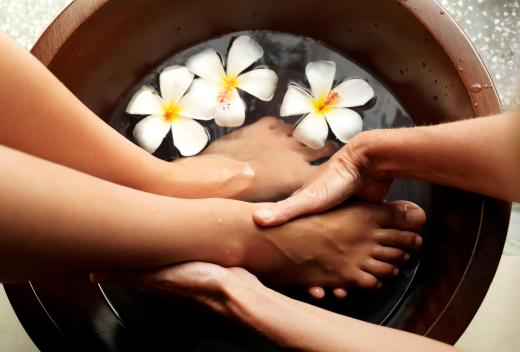 When choosing pedicure supplies, it is generally recommended that nail technicians use stainless steel tools. These are sturdy and hold up well over time, and are also very easy to sterilize. These may include nail clippers or foot files. For tools that must be soft, such as cuticle pushers or nail files, it is generally better to purchase these items in bulk, so that it is not necessary to use the same tools more than once for each customer.
A foot bath should be easy to sterilize as well, and it is one of the most important pedicure supplies. It should also be easy to fill with water or to move around as needed. A pedicure chair should be comfortable and feature any additional capabilities that you deem necessary, such as the ability to recline or even offer heat or a back massage. The chair will likely be the most important purchase when selecting pedicure supplies, but if you work in a salon, it may not be necessary to purchase the chair yourself.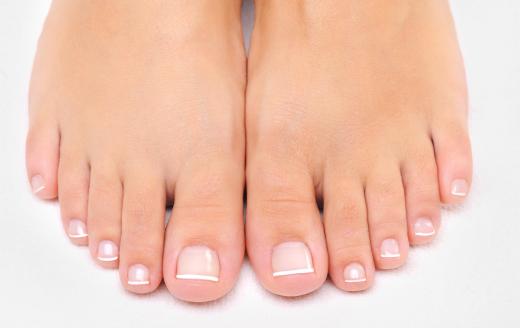 Select foot lotions and cuticle creams that are thick and rich, offering excellent moisturization and a pleasant scent. You will also need to choose nail polishes in a wide variety of colors so customers may choose anything they want. Reds and pinks are the most popular, as well as white for the look of a French manicure. It will be necessary to purchase nail polish remover as well. Searching online can be a great way to find ideas for other pedicure supplies, such as nail stickers or decorations, and may be a great way to find deals on supplies as well.
AS FEATURED ON:
AS FEATURED ON:

By: Yuri Arcurs

A woman getting a pedicure.

By: travis manley

Nail polish remover.

By: Valua Vitaly

Toenails with a French pedicure.

By: ibphoto

Nail clippers.

By: HamsterMan

Cotton wool pads are used to remove nail polish.

By: StockPhotosArt

Moisturizer for the feet and nails should be included as part of a pedicure.

By: Valua Vitaly

You may choose to purchase an wooden or orange stick in order to push back cuticles.

By: terex

A steel nail file may be more suitable than an emery board for filing toenails.