How do I Choose the Best Organic Soy Protein Powder?
Organic soy protein powder can be found throughout the world, though choosing the best powder requires a bit of research. Selecting a powder that is sugar-free, made from natural ingredients, and certified organic is the best way to shop for soy protein. Ingesting too much sugar or a product that is laden with chemicals may be detrimental to your health.
As a general rule, organic soy protein powder should not have any additives that are not organic. However, the term organic is widely misused, and products that do contain additives may be labeled organic. Therefore, it is important to read each organic soy protein powder label carefully. Look for powders that do not have any added colors, flavors, or sweeteners.
Protein powder that contains mostly soy protein is the kind of powder that is best to purchase. The purpose of using a protein powder is to gain as much protein as possible, so skip powders that have extensive ingredient lists. Organic soy protein powder should not contain any genetically modified ingredients. Purchase powders that contain naturally derived protein, and disregard powders that come from genetically modified soy.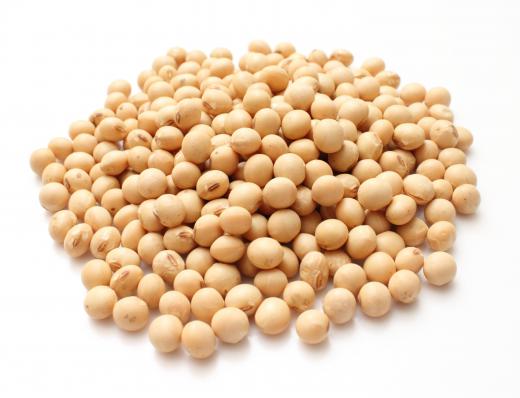 While organic soy protein powder is beneficial to some people, others may be allergic to soy protein. Further, some brands of soy protein may cause an allergic reaction while others do not. In order to ensure that you are not allergic to any kind of soy protein powder, purchase small amounts as samples from reputable retailers. You will also find that purchasing samples is an ideal way to choose a protein powder that you like. After sampling various powders, you can determine which powder works for you. Keep in mind that flavored powders tend to have added sugars and colors, which is why it's best to avoid these types of powder.
Avoiding soy protein that has been heavily processed is also a wise idea. Hydrolyzed soy, soy concentrate, textured soy protein, and soy isolate are all types of soy that have been manipulated. There is a vast amount of debate surrounding these processed soy products, and many people believe that processed soy is not healthy. In order to avoid any possible health risks, purchase soy that is free from any of the ingredients mentioned above. When consumed as part of a healthy diet, protein that is truly organic can be beneficial to your health.
AS FEATURED ON:
AS FEATURED ON:

By: lculig

Organic soy protein powder.

By: terumin

Soybeans.

By: MSPhotographic

Both soy and meat proteins contain all the essential amino acids that the body requires.

By: gitusik

Some people are allergic or sensitive to soy.

By: ArenaCreative

Soy protein is commonly consumed by vegan and vegetarian weightlifters.