How Do I Choose the Best Onion Powder?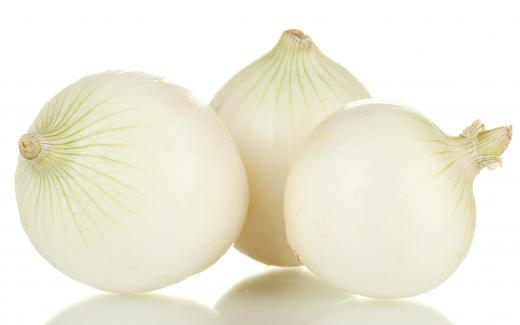 Onion powder can add a dash of flavor to nearly any recipe. The type of onion used to make this powder can greatly affect the taste. You may want a granulated onion made from a yellow onion if you like a lot of flavor, but choose powder made from white onions if you prefer a sweeter taste. This seasoning tastes best when it is fresh, so you may want to find out when it was manufactured.
Smelling the onion powder can give you an idea of what type of flavor this spice might give your dishes. Open the lid of the jar and inhale the aroma of the granulated onion. Think about the dishes you would like to prepare with this seasoning and what your individual taste is when deciding if you like the way a certain brand smells.
While you still have the lid off the jar, you may want to note how the product is dispensed. Some recipes may call for a dash of onion powder, while others may require a few spoonfuls. A brand that has a dial top could be a good choice, because this will allow you to either shake the product like salt or pour it into a spoon by turning the dial from one direction to the other.
Shaking the jar might give you an idea of the consistency of the onion powder. These onion flakes should be somewhat loose, but feel heavier than a shaker of salt. If they do not appear to flow easily or if the jar feels very heavy, this could be a sign that the granulated onion may not mix well when added to liquid ingredients.
Onion powder is sometimes combined with salt to make onion salt. This spice can be substituted for onion powder or seasoned salt when making soups, casseroles, or seasoning meat. You may want to consider this type of granulated onion if you ordinarily use these other spices, as doing so could help you eliminate the need to have several different products on hand.
The price of onion powder can vary from one brand to the next. You should not feel as though it is necessary to purchase a very expensive type in order to get a good product. Many inexpensive varieties are very flavorful, so you should choose one that best meets your needs without being concerned about the cost of this granulated onion.


By: Africa Studio

Onion powder that comes from white onions has a sweeter taste.