How do I Choose the Best Mosquito Repellent Spray?
If you are planning any type of outdoor activity, insect repellent is a very important item to consider. To choose the right product, you may want to consider whether or not the product is waterproof if you plan to do any type of water activities, such as fishing or boating. Other things you may want to think about is the size of the container, the product's smell and whether or not a mosquito repellent spray is also a good deterrent for other insects, such as biting gnats and fleas.
The first step in choosing the best insect repellent typically is reading the label of the spray bottle before purchasing. Find out how long an application of this product will typically last and think about how long you will be outdoors. Check to see what warnings or precautions should be taken when using this product. Try to determine whether or not the product may be used on camping equipment or folding chairs in addition to spraying it on your person. You may also want to see if this brand is also good for repelling any other type of insect.
Think about purchasing a bug repellent that has a sunscreen if you will be doing any type of water activity because this type of product is normally very waterproof. Having a spray that is waterproof can be a bonus even if there is no contact with water since non-waterproof repellents typically are removed from the skin when you sweat. Waterproof bug spray will likely need to be applied less often as well.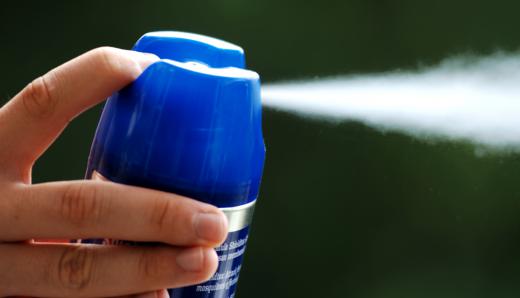 Remove the lid from the container of repellent, if possible. Spray a tiny bit of the repellent in the air so you can get an idea of what the scent is like. If the smell makes you nauseous or gives you a headache, you might want to consider another less offensive brand.
If you have a limited amount of space in your bag, you may prefer a travel-sized spray. These might be as small as one to two ounces (29.57 to 59.14 ml). They will usually have a pump-type spray mechanism topped with a clear plastic cap to keep the liquid from being accidentally dispersed. Other portable sprays could be in a long metal tube and have an aerosol spray mechanism. These will usually have a solid plastic cap which sits down firmly over the top of the tube.
Having the proper mosquito repellent spray can be very important whenever you are spending time outdoors because mosquitoes can spread diseases, such as West Nile Virus. They can also cause a great deal of aggravation because their bites often cause painful itching. When you choose the right repellent, the threat of these bites can be significantly reduced.
AS FEATURED ON:
AS FEATURED ON:

Mosquito about to bite.

By: TMAX

A person using mosquito repellent spray.

By: Maridav

When choosing a mosquito repellent spray, consider the type of ingredients, possible side effects, and whether it's water resistant.

By: MSPhotographic

Some mosquito repellent sprays and patches are made with garlic, which mosquitoes find objectionable.

By: jedi-master

Mosquito bites can cause painful itching.