How do I Choose the Best Modern Office Furniture?
When choosing modern office furniture, it's important to look for value rather than just style. For instance, white upholstery can look smart and contemporary, yet it may not be practical to keep clean for either the waiting room sofa or office chairs. The best modern office furniture to choose should fit your budget and be both efficient and attractive.
Unless your budget is quite low, look for good quality hardwoods for desks and shelving. Quality hardwoods such as oak and cherry will stand up to wear better than softwoods such as pine which can become easily dented and scratched. If budget is an issue, laminates, which are synthetic coated particle board or wood products such as are often used for kitchen cabinets, may be a good choice.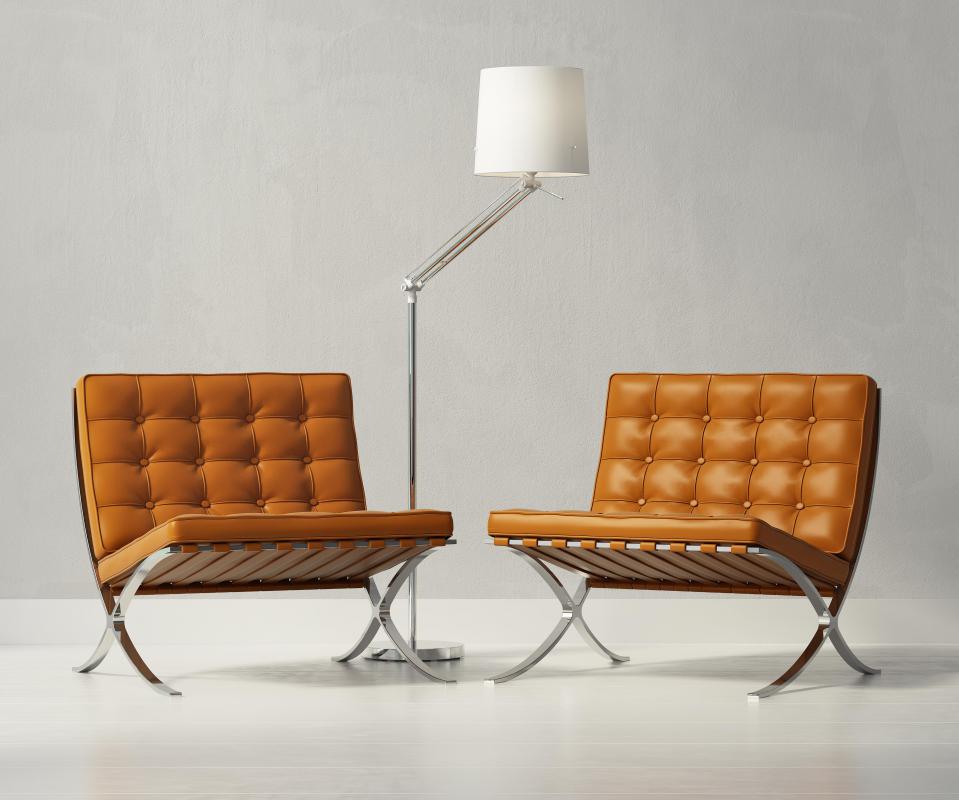 Laminate office furniture tends to be strong and generally inexpensive as well as easy to wipe clean. White or black laminate office furniture also has the advantage of fitting well into modern spaces, as it typically is straight-lined in style. If you choose genuine wood pieces instead, they should have clean lines rather than be ornate and detailed.
Metal is an excellent alternative to wood or laminate furniture. Depending on the look you want, you could even choose a bold color such as vivid red or bright blue for closed metal shelves, office chairs and work tables. Or, a silver-colored theme of metal could be used throughout the office with one other accent color strategically placed on feature walls or even the carpeting. Modern office furniture shouldn't have a stuffy or traditional look to it, but rather be innovative and fresh in it's style.
A splash of bold color does suit modern offices. You could use the company color for extra meaning. Adding too many colors or using little accent pieces of a bright color all over the office is likely to be a mistake. Instead, large bold pieces and a minimalistic look tend to work best in a modern office environment.
For instance, you should carefully consider your options before deciding to go with orange sofas and a blue rug. It would be much better to use one of those colors mixed with different neutrals. Modern office furniture that makes the work space look fresh and new should be the goal; too much color and detail can defeat the purpose.
Remember to consider all of your furniture options. You don't have to stick with the idea of a rectangular desk or worktable unless it would work best in your office space. Round or irregular-shaped tables can add interest to a modern office. Rather than traditional leather or upholstered office chairs, mod-looking styles in fun shapes or metal may work well as long as you look for comfort and posture support. When buying modern office furniture, it's also important to keep the scale large by choosing big pieces rather than small ones, unless the work space is tiny.
By: Goran Bogicevic

Modern office furniture should be efficient, attractive, and affordable.

By: amphotolt

Modern office furniture include low wattage desk lamps.

By: Mihalis A.

The Barcelona® chair is a distinctive design easily translated into couches and daybeds as well as single chairs.

By: Stacy Barnett

Some modern furniture is ergonomically designed.