How do I Choose the Best Mobile Phone Charger?
In order to choose the best mobile phone charger, you will need to consider several factors. The most important factor is what type of charger your mobile phone will need. Some mobile phones have a proprietary connector type that will only work with a specific charger, while others have a generic connector that can be used with a basic charger.
The easiest thing to do to choose a mobile phone charger is to check with the manufacturer of your mobile phone. Most mobile phone companies sell them at their stores or you can check with the manufacturer, which is usually easiest to do online. Although typically more expensive than a charger made by another company, you can be sure it will fit and work with your mobile phone.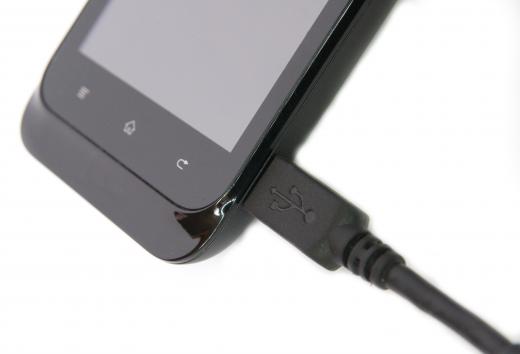 If price is a consideration, there are many companies that manufacture chargers for various mobile phones that are typically less expensive than ones made by the manufacturer. There have many varieties to choose from, and some have switchable adapters so you can use them for other types of phones and devices. Typically, a mobile phone charger made to fit your specific phone will work better than one that can be interchanged, as they have more moving parts and are more prone to breaking or losing their connection to the charging source.
Another type of charger is the universal battery charger. Typically, they do not plug directly into your phone, and you need to take your battery out to place them in the charger. If you have two batteries you can alternate between, this might be a viable solution for you.
In June 2009, an agreement was reached with many of the major manufacturers of cell phones to manufacture phone chargers which utilize the Micro-USB connector type as a standard. This has been slow to implement, but by 2011 most manufacturers were in compliance. Purchasing a mobile phone with this type of connector will make it easier to find a replacement mobile phone charger in the future.
Phones purchased prior to 2009 have a lower chance of utilizing the micro-USB standard charger, and it may be difficult to purchase a new charger for the mobile phone unit. The only company that did not agree to the standard in 2009 was the Apple corporation, who manufactures the iPhone™. By not adhering to the Micro-USB standard, Apple retains proprietary rights over the phone chargers compatible with their products.
AS FEATURED ON:
AS FEATURED ON:

By: anderm

There are various factors to consider when choosing a cell phone charger, most importantly that it is compatible with the cell phone it will be charging.

By: bloomua

Apple, which manufactures the iPhone, was the one company that did not agree to the standard of using micro USB for mobile phone chargers.

By: Xuejun li

Some cell phones may only with with a specific charger.

By: Les Cunliffe

A car phone charger must be compatible with a person's cell phone and vehicle.