How do I Choose the Best Mobile Bookkeeping Service?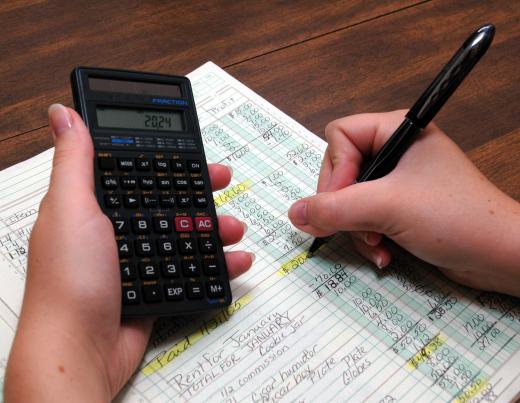 When choosing a mobile bookkeeping service, it is important to consider the terms of the contract, the costs, and the qualifications of the company. A professional bookkeeper that works through a mobile bookkeeping service should be highly trained and qualified to handle a company's financial statements and transactions. Most firms that offer bookkeeping outsourcing services devote themselves solely to that type of service. Their professional reputation relies on the accuracy and efficiency of their workers. Therefore, businesses should make sure that accounting service companies offer accuracy and efficiency guarantees.
There are many companies that offer accounting services, but mobile services travel to the companies they work for. They typically either have a person come to the company to do the books on site, or pick up and drop off the necessary paperwork. A mobile service will usually cost more than one that requires clients to send the information digitally or through the mail. One of the best ways to find a good firm is to ask for recommendations from other businesspeople who have used their services. Some mobile companies even offer a trial period to allow businesses to determine if it is a good fit for the company's needs.
A good bookkeeping service will almost always offer a guarantee of accuracy, particularly with tax figures. If such a firm makes a tax error that can cost the client money or cause legal problems, it should be accountable. Most reputable services will handle the corrections and cover any fines or financial hardship the errors caused. Accounting outsourcing companies be experienced with a wide range of financial industry software. A company should choose a mobile bookkeeping service that can use its own software, or software that is compatible.
Accounting services all typically offer different packages and programs for companies of different sizes. A small business may want only a few services, while corporations might need much more complex and categorized accounting. Often, the best mobile bookkeeping services offer a variety of packages, as well as certain services, like special tax accounting or printed reports, that can be added when needed.
Some services also charge extra for travel time or for appointments outside preferred working hours. A business looking to outsource should ask about travel expenses, flexibility in appointments, and turnaround times on accounting reports. It is also wise to be aware of any extra charges for things like taxes or more frequent reporting. Before hiring mobile bookkeeping services, also ask about the professional credentials, experience, and qualifications of the employee or employees who will be doing the actual bookkeeping work.


By: Danny Hooks

A bookkeeper reviewing a ledger.