How Do I Choose the Best Men's Faux Fur Coat?
Choosing the best men's faux fur coat takes research and competitive shopping. You need to consider price, coat style, fit, the type of faux fur, color, and care. Bringing all these factors together into the perfect coat for you might take some effort. This means online research as well as a visit or two to a faux fur store or professional furrier. Getting the right fit will probably necessitate trying a fur on.
A men's faux fur coat can come in many styles. For cold weather, you might be looking for a full fake fur coat or duster. In less frigid weather, or for more mobility, you might want a pea coat, a parka, or a bomber jacket. Warmer weather styles include vests, wraps, and fur-lined hooded sweatshirts; and for all-weather options, there are storm coats and parkas that are only lined with fur on the inside, remaining waterproof on the outside.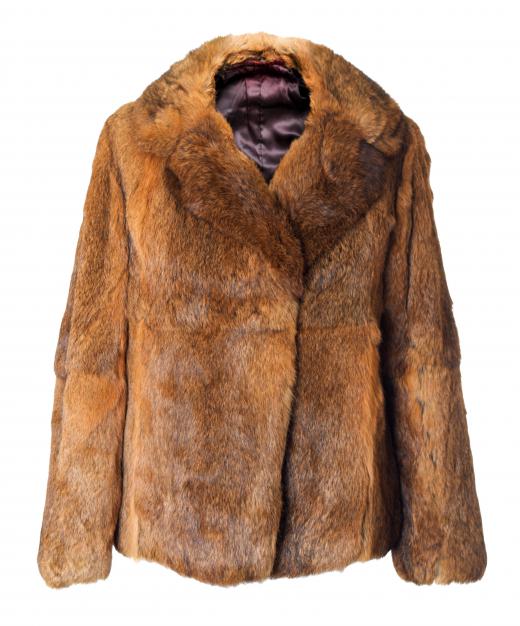 Color and pattern are another factor when selecting the right men's faux fur coat. Most fake furs will be a natural or organic color meant to simulate the look of real fur. Such color families include brown, black, white, gray, and red; however, more extravagant, artificial options can be purchased if you're seeking a more flamboyant fur fashion. Colors and patterns will also correspond with the animals the coat is styled upon: for example, mink, chinchilla, fox, beaver, raccoon, or badger. Again, wilder patterns can be found, such as zebra or leopard prints.
When shopping for a men's faux fur coat, carefully read descriptions and labels. Unfortunately, some less reputable companies have been known to disguise the origin of their faux fur and have actually used real animal fur in their fake coats, including fur from dogs and cats. It's usually helpful to ask a lot of questions and look for reviews if they're available. When in doubt, you might wish to only trust brands that have a good reputation for their faux fur.
There are a number of men's faux fur coat materials, but the most prevalent is acrylic. Soft, warm, and fire retardant fibers like Kanecaron® and Tissavel® make for coats and jackets that are both long lasting and very similar in texture to genuine furs. These fibers are fairly easy to care for when you closely follow care instructions, and it's essential to do so if you want to prevent the coats from fading and shedding, or being ruined completely. Such care generally entails dry cleaning or very careful hand or spot washing. Warranties are also based on proper care, so it's important to heed warnings.


By: Luis Louro

Many bomber jackets feature faux fur or sheepskin for added warmth.

By: Vibe Images

Faux fur, like from the chinchilla will be made to look like fur from the actual animal.

By: zakaz

Some companies may disguise the origin of their faux fur coat and have actually used real animal hair.