How Do I Choose the Best Marinade for Chicken Thighs?
A great marinade for chicken thighs can elevate an otherwise passable preparation to the level of sublime. Marinated with the right mixture of ingredients, the thighs can be extremely succulent with a flavor to die for. Choosing the right marinade for chicken thighs really depends on the taste you'd like the thighs to acquire and the occasion. To give the chicken an Asian flavor, go for a marinade based around soy sauce. When grilling, you may want to choose a marinade that combines well with a spicy dry rub.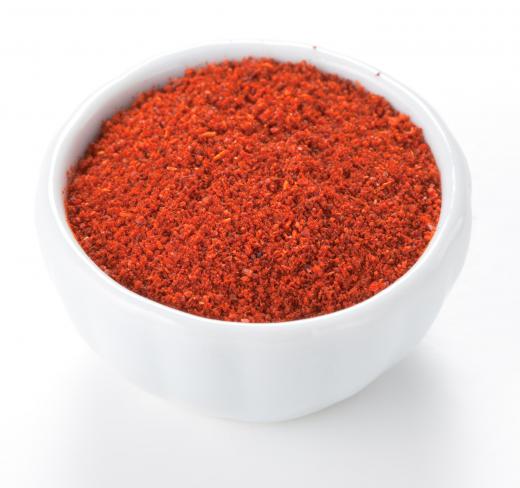 Marinades can give chicken an amazing flavor that you would be hard put to describe. Some cooks love to experiment with unusual ingredients, and you can find recipes that use beer or apple cider in the marinade for chicken thighs. Coconut milk is another ingredient that can impart a truly exotic flavor to the chicken. If you would like to arrive at your own signature recipe, draw from your own likes and dislikes, and experiment with tastes that you love.
For instance, some like to marinate chicken thighs in a mixture of ginger and garlic ground to a fine paste along with other ingredients. Fresh coriander leaves, curry leaves, or even mint leaves can also be added to the mixture before grinding. This gives the chicken thighs a more Oriental flavor.
Typically, marinades combine ingredients that are slightly acidic with lots of flavoring substances. Yogurt, lemon juice, and vinegar are some of the acidic substances that cooks normally use. Fresh or dried herbs like rosemary, basil, thyme, and sage are interesting ingredients to use. Spices like paprika, cayenne, and Kashmiri red chillies add a hot touch to the mix. If you don't have a particular ingredient on hand, you can substitute it with similar ingredients and try it out.
For instance, you can substitute buttermilk for yogurt; some chefs swear by the wonderful flavor buttermilk imparts to chicken thighs. Use orange juice instead of lemon juice in a marinade for chicken thighs. Don't be afraid to experiment and arrive at your own blend of herbs and spices to create a one-of-a-kind marinade for chicken thighs.
Browse through recipes online, and check as to how cooks use marinades. A few that are specially designed for red meat may also work with chicken, especially if you plan to barbecue both at the same time. Some of these marinades, however, may be specially made to tenderize and soften red meat. It may not be a good idea to use those particular marinades on the chicken thighs because the flesh is normally not as tough.
Always unfreeze the chicken thighs before marinating them; the closed pores do not absorb marinade well. You could, however, marinate the chicken thighs and then freeze them. To pick a good recipe for a marinade, look for one that explains the rationale behind choosing the ingredients and walks you through the process. Great marinades are typically half acid and half oil and have a flavor that permeates the flesh to the bone.


By: zoë biggs

Fresh coriander can be used in a marinade for chicken.

By: Ekaterina Lin

Spicy paprika can be used in a chicken marinade.

By: Elzbieta Sekowska

A mixture of ginger and garlic is a common marinade for chicken thighs.

By: Monkey Business

Chicken thighs can be seasoned using a dry rub of herbs and spices.