How do I Choose the Best Lipstick Color?
Standing in a cosmetics aisle surrounded by what can be hundreds of different lipstick colors is often daunting. In order to choose the best lipstick color for you, do some quick planning steps before you go to buy makeup. It's easy to start by studying your natural lip color in a mirror.
You won't have to be limited to having to buy a lipstick color close to your natural lip tone. It just helps to look in a mirror to see if your lips and skin tone are warm or cool, as many lipsticks and other cosmetics are labeled this way. For instance, lipsticks with names such as Cinnamon Spice have a warm undertone, while those labeled something like Icy Pink have a cool cast. People with a peach or orange essence to their skin are considered to be warm-toned, while those with a blue or pink undertone are said to be cool-toned.
Chances are, you'll be instinctively attracted to the right lipstick color family for you, as cool-toned people tend to prefer the clear, icy shades while those with warmer skin tones usually pick the tawny, spicy hues. Comparing skin colors and lipstick shade preferences with friends can help you better understand the principles of cool and warm tones. The best lipstick colors tend to make a person's face look less lined and shadowed; if you appear to look better in certain lipsticks than others, chances are they are in the ideal tones for your skin.
While everyone can wear both lighter and darker lipstick shades, those with darker brown and black skin tones are usually better able to handle the darkest cosmetic colors. Rich raisins and very deep wines may be too dark for people with lighter skin colors. In searching for the best lipstick color for you, it may be ideal to choose one tube each in a lighter and darker shade. Lighter shades work best for day, while darker lipstick colors better suit the evening.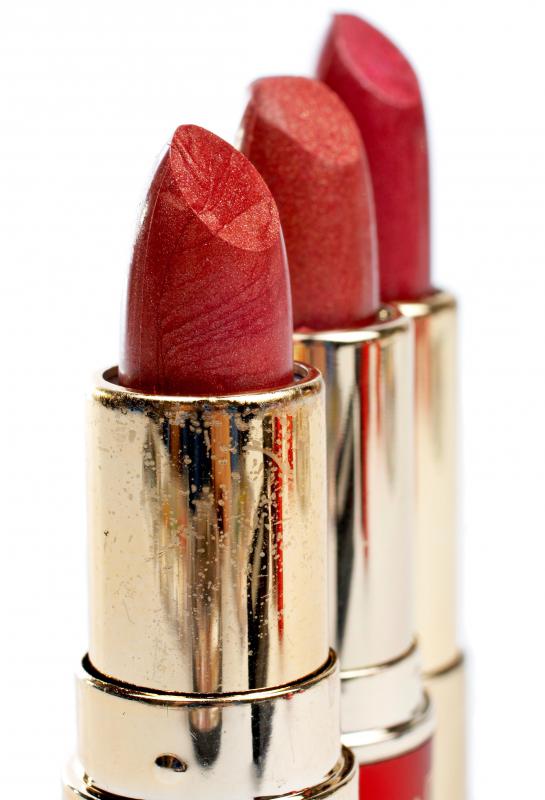 If you want to be a little daring and find a bright color of lipstick that suits you, remember to choose one that complements your skin tone. Whether your favorite bright shade is red, pink or something else, keep the rest of your makeup, such as eyes and cheeks, more subdued or you run the risk of looking clownish. When going for a smokey, dramatic eye makeup look, your best lipstick color is one that is more natural and soft.
Makeup, including lipstick.

A woman applying lipstick.

When choosing lipstick consider colors that look best with your skin tones.

Lighter shades work best in the day and darker ones at night.

Care must be taken so that lipstick does not appear clownish.