How Do I Choose the Best Lip Gloss with SPF?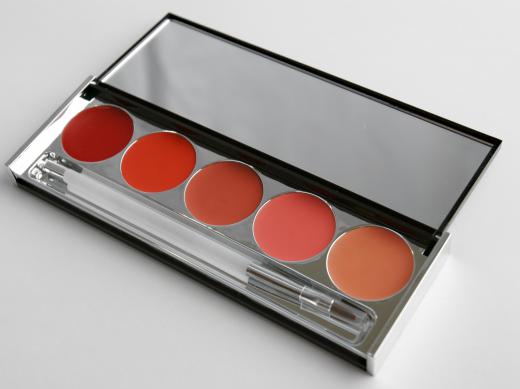 Lip gloss with sun protection factor (SPF) is a beauty product which is applied to the lips to enhance their appearance while simultaneously protecting them from the sun's harmful ultraviolet (UV) rays. If you are interested in purchasing lip gloss with SPF, you might find yourself overwhelmed by the many choices available in department stores, cosmetics shops, pharmacies, and even supermarkets. In order to determine which gloss is best for you, begin by deciding how much sun protection you want. Then, think about whether you would like a product made with natural ingredients. Finally, decide if you want a gloss with a particular flavor or appearance.
When choosing a lip gloss with SPF, one of the first things you should consider is how much sun protection you need. A product's SPF rating gives an indication of how much protection it provides from UV rays, which can cause skin damage like wrinkles and discoloration and may even lead to skin cancer. If you are seeking a gloss for everyday use, an SPF rating of 15 may provide adequate protection. You may wish to choose a gloss with an SPF rating of 30 or higher, however, if you have very fair skin or are planning to spend time in direct sunlight. While glosses with high SPF ratings are not always available in stores, a good selection can be found through many Internet-based retailers.
If you are a person who is drawn to a natural lifestyle, you might consider a lip gloss with SPF that is made from all-natural ingredients. Some natural ingredients, such as oils derived from trees, fruits, and flowers, can give glosses a fresh smell. Others, like aloe and cocoa butter, can help soften and condition the lips. In many cases, cosmetics manufacturers that focus on all-natural formulations also oppose animal testing.
Finally, before selecting a lip gloss with SPF, think about whether you want a gloss with a specific flavor or look. Lip glosses are available in a huge range of flavors, from tropical fruits to more unusual choices such as bubble gum or soda. Additionally, it is possible to purchase lip gloss in many different finishes. Some are clear while others are subtly or brightly colored, and some formulations have a high-shine or pearlescent appearance. When deciding upon a finish, keep in mind that very shiny glosses tend to attract the sun's rays, perhaps making them a bad choice for use during daytime outdoor activities.


By: Ganna Shapovalova

Lip gloss that contains SPF shields the lips from the sun's harmful ultraviolet.