How Do I Choose the Best Large Curling Iron?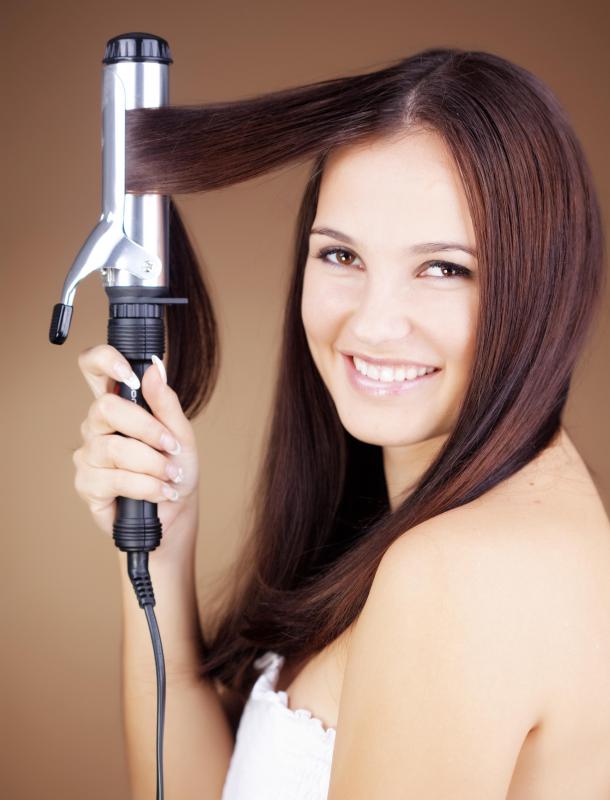 If you have straight hair that tends to be limp, then a large curling iron can be the thing to give you large, voluminous curls. Marcel curling irons are an option if you are comfortable with curling irons, while spring-loaded curlers are a good option if you are a beginner. Curling wands are for those who are seeking ringlets. No matter what type of curling iron you choose, make sure that it is made from ceramic or tourmaline.
Marcel curling irons are generally used by hairstylists and hair professionals. These curling irons differ from traditional curling irons in that they do not use a spring. The hairstylist will have to apply pressure onto the barrel to tightly clamp the hair, creating a curl. This can be a rather tricky endeavor if used by a novice. If you are well-versed in the usage of a large curling iron, then purchase a marcel iron. These are generally not recommended for individuals who are just starting out with curling their hair.
Spring-loaded, clamp-style, large curling irons are generally thought of when one thinks of a "curling iron." By placing the hair underneath the clamp, closing it, and then winding it around the barrel, a person can easily create waves and curls. They're very easy to use because spring-loaded irons tend to do half the work for you.
A modern twist to the curling iron is the curl wand. Curling wands look like curling irons without the clamp, allowing you to get a curl by wrapping the hair around the wand and holding it for a few seconds. Curling wands are not suitable for certain hairstyles, as these types of curling iron create more of a ringlet pattern. Most manufacturers that create curl wands package their merchandise with a protective glove to ward off any burns while styling the hair.
No matter if you are using a marcel curling iron, a spring-loaded large curling iron, or a curling wand, make sure to select a device that uses ceramic or tourmaline technology. Ceramic and tourmaline create negative ions while you are actively heat-styling the hair. This will close off the hair cuticle, adding shine and preserving the health of the hair follicle. These types of curling irons also heat up consistently without the occurrence of damaging hot spots. Curly hair types, which tend to be fragile during the straightening process, can benefit from a tourmaline or ceramic large curling iron.
By: Alena Ozerova

Spring-loaded clamp curling irons are the most common option.

By: seprimoris

Curly hair types can benefit from a tourmaline or ceramic large curling iron.