How do I Choose the Best Kitchen Curtains?
As you are choosing the best kitchen curtains for your home, you should consider several aspects of your kitchen. The curtains should work with the overall color scheme and aesthetic of your kitchen, whether you use them to blend into the colors and design you choose or as contrast. If the curtains are going to be in an area near where food is cooked, you may want to consider kitchen curtains that are made from non-flammable materials and ones that will be easy to clean if food or oil splash onto them.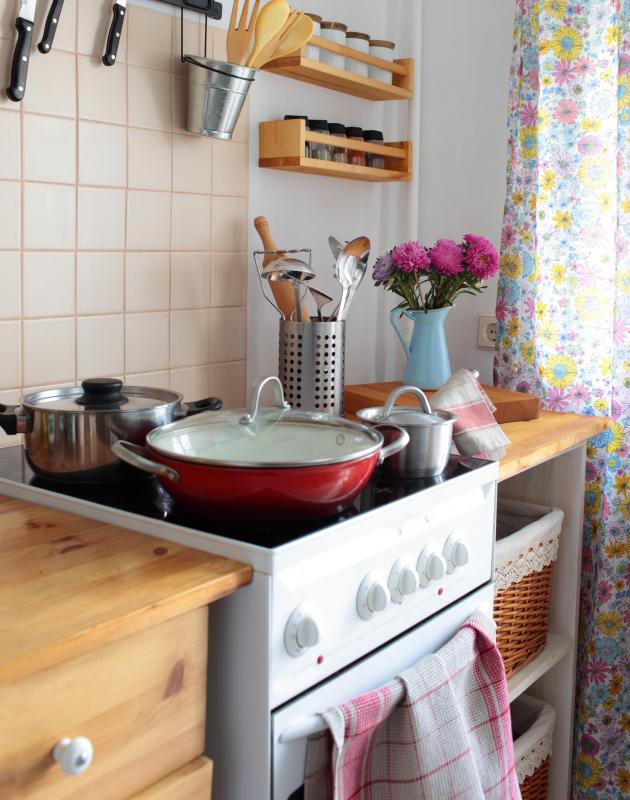 Kitchen curtains are curtains used to cover a window in a kitchen, often to block out light during the day and to provide privacy in the evening. These curtains are often used for decorative purposes and can be purchased from a variety of designers or made by someone with sewing experience. Depending on your kitchen, the criteria you use for the curtains can vary quite a bit, so ultimately you should consider your needs and your kitchen with respect to any decisions you make regarding your kitchen curtains.
Your kitchen curtains should work well with the colors and designs you already have in your kitchen, especially if you are trying to create an overall theme or aesthetic. If you already have a color scheme or general design you are using for your kitchen, your curtains should work within the confines of that design. You can also use your curtains to start to establish an overall theme if you do not already have one. The kitchen curtains you choose should work to reinforce your theme, by matching the color of your refrigerator or your plates for example, or they can act as contrast, though this should be done carefully.
You should also consider where your kitchen curtains will be placed in your kitchen. If the window you plan to cover is near a stove, for example, then you should ensure the curtains will not provide a fire hazard. Curtains for such a window should be made from non-flammable materials to reduce the chances of a fire. You should also try to choose kitchen curtains made using materials that will be easy to clean if they will be near areas where grease or food might splash onto them.