How Do I Choose the Best Home Office Computer Desks?
Home office computer desks are often designed with a specific type of computer in mind. Some desks, for example, are designed to accommodate laptop computers, while others have features better suited to a desktop computer. Features such as a slide-out keyboard tray, for example, can be exceptionally useful for a desktop computer, but will provide no real benefit for a laptop user. Choosing the best home office computer desks starts with determining how you intend to use the workspace. Once you have determined what you will use the desk for, consider materials, storage space and options, and size.
The materials used to make home office computer desks can vary. Wood is the most common choice of materials, but not all woods are the same. Inexpensive particle board will be featured on very affordable desks, but this material is not especially durable and can break down quickly. Hardwoods are far more expensive, but they are also more durable and more attractive. It helps to have a budget in mind when choosing among the many types of home office computer desks available so you can narrow your search quickly. Aside from wood, glass is a common choice, as is steel or aluminum. Choosing the best materials is a matter of considering how much you want to pay and how durable you want the desk to be. Aesthetics can also vary significantly by material.
Think about the types of accessories and features you want included with the home office computer desks you are considering. Some desks, for example, feature slide-out keyboard trays and elevated monitor shelves for desktop computers; others may designed to accommodate file storage in the form of a filing cabinet or drawer. Shelves and drawers make storage much easier; some shelves are height-adjustable as well for added convenience.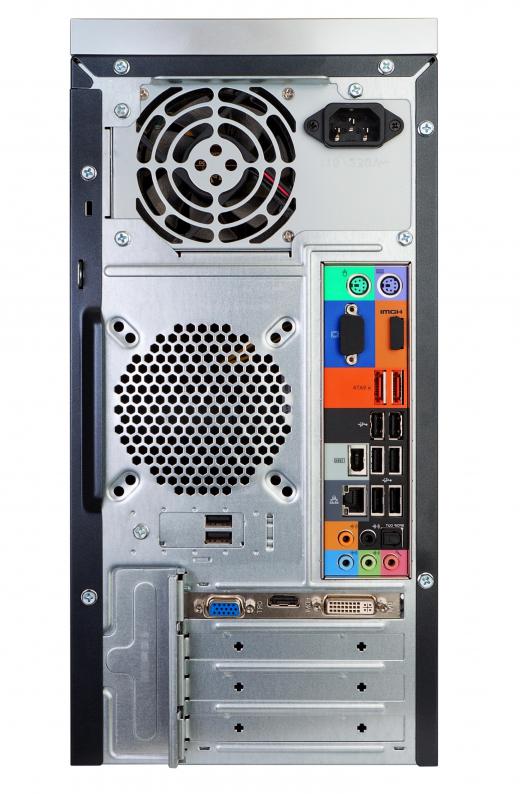 You will also need to consider the footprint or layout of the home office computer desks you are considering. Some home offices tend to be fairly small, so a smaller desk may be appropriate. Some desks are even designed to fit snugly into a corner, and instead of having a significant amount of horizontal desktop space, the desk may feature vertical shelving on which peripheral devices such as printers can be stored. Other desks will feature a bigger footprint for added desktop space. Some home office computer desks are L-shaped and are designed to fit into the corner of a room. This maximizes usable desktop space without using up too much space within the room.
AS FEATURED ON:
AS FEATURED ON:

By: Iriana Shiyan

A home office should include a desk with drawers for organizing purposes.

By: sergojpg

If you have a tower computer, you will need a desk that allows easy access to the computer's rear so you can easily plug in peripherals.

By: Oleksiy Mark

Some people find that an ergonomic desk is more comfortable when working at the computer.