How do I Choose the Best Home Lighting?
In choosing the best home lighting, you should consider your indoor as well as outdoor needs. Indoor lighting should not only complement your interior design, but it should fit in with the tasks done in each room. Outdoor lighting can be stylish, but should focus on security. Safety should be thought about in all your lighting choices. Choose the lighting that best fits in with your safety, security and tasks as well as your budget, preference and home decor style.
Secure and safe lighting begins with your front door and the access paths or walkways. You should be able to control these types of outdoor home lighting from indoors. Choose outdoor lighting that not only lights up your entire entry area clearly, but also the stairs and walking paths. This will not only provide security by helping to deter prowlers from wanting to be seen, but also provide safe visibility for guests leaving your home at night or for yourself coming home in the evening. If you live in an especially dark area or a climate with a lot of heavy rains or snow, having well lit walkways and stairways is especially important to help avoid falls.
Other than the front of your house, you should also consider having motion detection lights at the sides and back. Motion detection lighting will only light up if it senses movement; this can help deter prowlers. These type of motion sensitive lights can be more considerate for your neighbors who may be bothered by traditional lights shining into their bedrooms during the night. Make sure motion detection home lighting is installed high enough that it can't be disabled by a potential burglar. Placing the lights so they shine on windows partially covered by shrubbery as well as back doorways is a good idea to deter prowlers by making your home more revealed at night.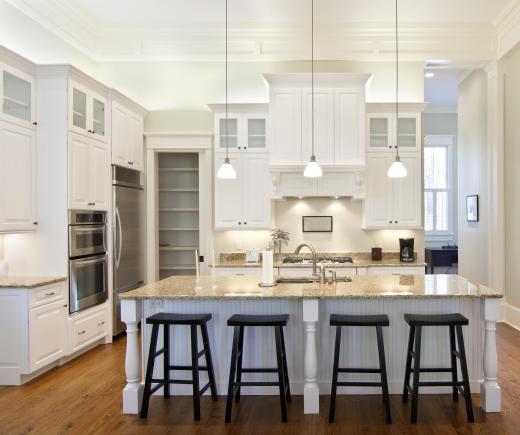 Security indoor home lighting includes lamps set on timers. These lamps can help make would be burglars think people are at home when they're not. Indoor lights should be chosen carefully for each room. In the kitchen, the lighting should be adequate for cooking and reading recipes. Home offices and reading areas should also have adequate lighting in order to be safe for the eyes to avoid eye strain. Dining rooms are popular places for dimmer switches; these allow the lighting to be adjusted from dim to bright depending on the mood and time of day.
AS FEATURED ON:
AS FEATURED ON:

By: Dirima

Home offices and reading areas should have adequate lighting in order to avoid eye strain.

By: Wollwerth Imagery

Kitchen lights should be bright enough to illuminate tabletops.

By: vlorzor

Lighting is an important factor in design.

By: bmak

Safe, secure house lighting begins with your front door and walkways.